"The Deconstruction of Rush" - Production Profile from PLSN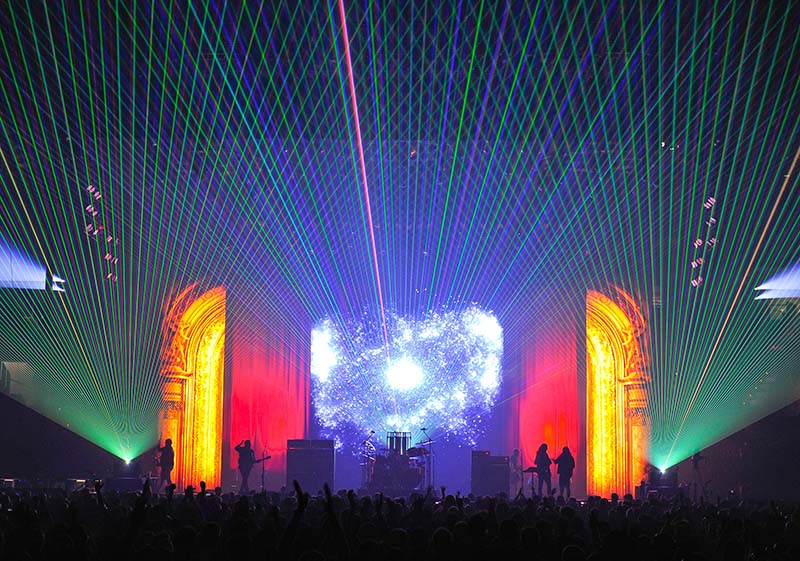 A new article focusing on the extensive light and stage show of Rush's R40 tour, titled "The Deconstruction of Rush", has just been posted in the July 2015 issue of PLSN (Production, Lights and Staging News).

From the article:

Rush hit the road last month for what they are calling the continuation of R40 — celebrating 40 years as a band. Parnelli award winning production designer Howard Ungerleider actually explains that he is entering his 41st year with the band, having been brought into the fray back in 1974 as he says, "to teach a new band how to tour." But what is separating this tour from any other Rush show is they are touring behind a theme this time. They are "Deconstructing" their career live — as each song they play takes you back one more step in their long, storied career.

"Subtractive Technology in Motion"

…to start a show with all the high-tech visuals of their 2013 Clockwork Angels tour...Before every Rush tour, the artistic team, including creative director Dale Heslip, producer Allan Weinrib, lead singer/bassist Geddy Lee (Allan's older brother) and Howard Ungerleider start by getting together for some new ideas.

Prior to their latest brainstorming session, Dale came up with an idea of going backwards in time. His idea was to stage a show that started where they left off in 2013, with the Clockwork Angels tour and all its high tech visuals, and take the audience back in time all the way to when Rush played their first gigs with a few PARs on sticks and a mirror ball.

Dale pitched the idea to Geddy, who immediately called a meeting to discuss the concept further. There, everyone looked to Howard to come up with ways to make the concept come to fruition.

While Ungerleider is the first to admit that the theme for the tour is a great idea, he also realized it would probably be the most work he has ever had to put into a Rush design. His personal theme for this production was deemed "Subtractive Technology in Motion." Everyone agreed that this was the path to follow. They could bring back old video footage, lighting looks and songs that have not been heard in a while. They needed a rough period outline of the band's career, which the creative team decided could be brought about by dividing the bands' career into five time segments. These included:


Current Big Technology Era (2007-present)

Large Arena Looks (1990s-2000s)

Small Arena Looks (1980s)

Theater Looks (late 1970s)

Gymnasium Period (early 1970s)

You can read the entire article via this LINK.
---