Rush: A Brief History of Time - Part 13 Now Online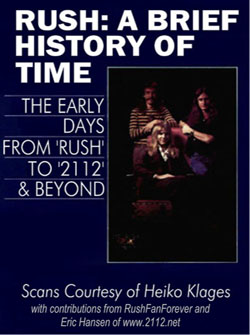 The thirteenth installment of the ongoing series Rush: A Brief History of Time, an ever-growing archive of articles, interviews, reviews, and advertisements about Rush that span every decade from the 70's onward, and collected from the world over, is now online.

The thirteenth installment includes 239 "new" articles and advertisements; 54 from the 1970's, 39 from the 1980's, 110 from the 1990's, 1 from the 2000's and 35 from the current 2010 decade. Roughly half of the articles this time around focus on the releases of Presto and Roll the Bones, including some great, separate interviews with each of the band members.

Also included in this installment are numerous, early concert reviews from the 1970's, many of which definitely did not paint Rush, or their musical prowess, in a favorable light. One such review from 1974 had this to say:

"I really don't see what all the excitement over Rush is about. They're just another "high energy" rock band who prides itself on its ability to "boogie."

If that statement doesn't scream the 70's, I don't know what does :)

As always, special thanks go out to Heiko Klages for providing the majority of the articles and advertisements that make up this installment. Additionally, I would like to thank Rush historian and mega-collector Joe Pesch for also providing dozens of articles this time around. Other contributions came from Bob Wegner, Eric Hansen, Greg Nosek, and Kelly Moretta. Thank you, all!

To read the entire thirteenth installment, please click HERE.

To check out all thirteen installments of Rush: A Brief History of Time, which includes a chronological listing of all the articles (nearly 1,200 in all), please click HERE.
---