The 'Tom Sawyer's Treasures' Rush Collector's Fanzine Archive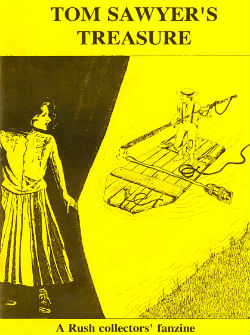 I'm happy to announce another new section to the Cygnus-X1.Net website - The 'Tom Sawyer's Treasures' Rush Collector's Fanzine Archive.

As some fans may remember from the pre-internet days, Rush fanzines were the primary source for gathering information and news on the band. In 1993, the collector-focused, Scotland based fanzine was first launched by Jim Wright and Chris Jones. The inaugural issue included the following introductory message from Wright and Jones:

"...In this new fanzine we will be dissecting rare Rush vinyl, CDs, etc, right down to the matrix number. Our aim is to inform collectors/fans of the worldwide rarities available and by giving a detailed description we hopefully will encourage more of you out there to start collecting. The time has never been better as record companies are now producing less vinyl but more CDs and tapes. This means that vinyl prices will soar in the future (but don't tell anyone!)..."

The fanzine was short-lived, unfortunately, producing only three stand-alone issues. However it later merged with another fanzine of sorts - Eric Ross' Rush: A Discography. An early issue of the Discography is also included in the archive.

You can access the archive via this LINK.

Many thanks to David Hodgkinson for providing scans of each issue.
---