Geddy Lee Travels to Florida to Expand His Baseball Autograph Collection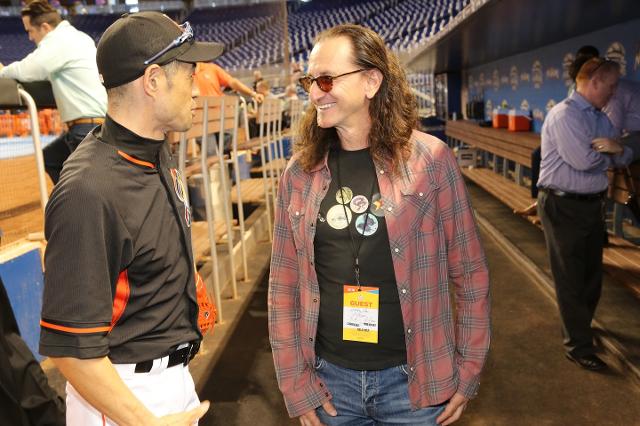 As many Rush fans know, Geddy Lee is a serious baseball fan and collector. He can often be spotted in the stands behind home plate at Toronto Blue Jays games, he is passionate about, and well respected in, the field of Fantasy Baseball, and he has been celebrated for making an incredible donation to the Negro Leagues Baseball Museum back in 2008.

Among his many baseball-related collections are player autographs. In an attempt to add to his ever-expanding collection, Lee traveled to South Florida yesterday to the home of the Florida Marlins. There, he was able to secure the autographs of Ichiro Suzuki and Barry Bonds. From the MLB story:

A rock icon met up with some baseball legends on Friday afternoon at Marlins Park.

Geddy Lee, lead singer from the group Rush, made a trip to Miami with the purpose of securing some autographs.

Lee, 63, is a native of Toronto and he's a lifelong baseball fan, as well as a collector. The Rush front man was on a mission to get a couple of autographs, and he secured the signatures of Ichiro Suzuki and hitting coach Barry Bonds.

The significance is Lee has a number of autographs from players in MLB's 3,000-hit club, and 500-home run fraternity. He now adds Ichiro and Bonds.

Ichiro reached the 3,000-hit milestone last Sunday, and Bonds holds the MLB home run mark with 762. Through the years, Lee also has obtained Ty Cobb and Tris Speaker autographs, as well as a Mickey Mantle bat.

"I'm off the road now, and I'm hanging around, digging the summer," Lee said.

Read the entire article via this LINK.
---