Geddy Lee Teams with Tech 21 for Signature SansAmp GED-2112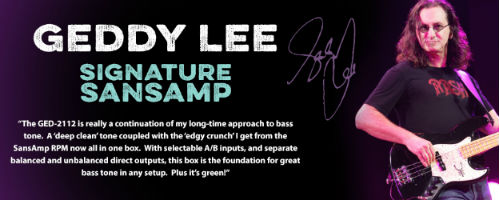 If you got to catch Rush in the past twenty years, you would have seen Geddy Lee on stage with household appliances in lieu of a bass amp. Going direct means relying on preamps for his sound, and now he's helped to create a signature SansAmp with Tech 21.

The Tech 21 Geddy Lee Signature SansAmp GED-2112 is a bass preamp in a single rackspace unit that features parallel pre-amping – meaning two separate internal preamps that run in parallel. It has a Drive section based on the SansAmp RPM as well as a Deep preamp section that dishes out a low end boost.

"Saturation goes from clean in lower settings to increased harmonics and tube-like compression in higher settings," the company writes. "To keep things lean and efficient, the EQ curve is pre-set to Geddy's personal specs. You can use either section independently or blend them externally direct to a mixing board as well as to two amplifiers."

Other features include a Blend control, a sweepable semi-parametric EQ, dedicated 1/4-inch and XLR direct outputs for each preamp section, an effects loop with Mix 50/50 switch, a tuner output, a clean 1/4-inch output, and a front panel A/B switch.

"The GED-2112 is really a continuation of my long-time approach to bass tone," Lee says. "A 'deep clean' tone coupled with the 'edgy crunch' I get from the SansAmp RPM now all in one box. With selectable A/B inputs, and separate balanced and unbalanced direct outputs, this box is the foundation for great bass tone in any setup. Plus it's green!"

The Tech 21 Geddy Lee Signature SansAmp: GED-2112 is expected later this year with a street price of $369.

For more information, click HERE.
---