Geddy Lee & Alex Lifeson Set to Induct YES Into the Rock & Roll Hall of Fame Tonight - Geddy Apparently WILL Perform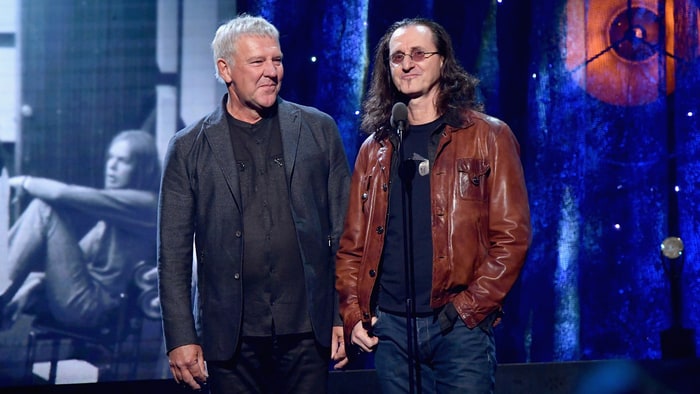 Ever since it was announced that the progressive rock band YES was to be inducted into the Rock & Roll Hall of Fame, rumors abound regarding a possible involvement with the members of Rush, who are all self-proclaimed YES fans.
In January, the news many fans were waiting for arrived - both
Geddy Lee & Alex Lifeson
would induct YES into the Hall. However as of that writing, there was no indication as to whether or not Geddy and/or Alex would actually perform during the evening's festivities. Fast-forward a few weeks, and a huge story coming out of Billboard was
published
which all but confirmed that Geddy Lee would, in fact, be performing with YES. Less than a few hours after the story broke, Billboard posted a retraction indicating that Geddy Lee would NOT be performing.
But that's not the end of the story. On YES's official website, drummer Allan White had this to say:
Alan White: Yes, we will be performing and I do believe Geddy has agreed to play bass for the band. We'll be playing 2 songs that everybody knows. I'm going to New York with a very positive sense of playing together again. It will be a bit of an adventure for everybody but when you put us all in the same room, we all know the songs, so it shouldn't take too long to rehearse them.
So the question remained - would Geddy (and/or Alex) perform?
That question seems to have been partially answered as Geddy was spotted performing 'Roundabout' with YES at a rehearsal session yesterday. Here are two pictures [
PIC 1
--
PIC 2
] of the rehearsal which shows Geddy in action. Geddy also posed for two pictures with YES's
Jon 'Juano' Davison
and
Billy Sherwood
.
---
Update:
As most fans know by now, Geddy did perform with YES for one song -
Roundabout
. Videos and pictures from the performance are available below. Both Geddy and Alex also performed during the closing jam session, playing
Rockin' in the Free World
alongside members of YES, Journey, Pearl Jam, and others.
Below is the transcription of Geddy and Alex's induction speeches:
Lifeson: We're honored to be here tonight doing this. It's really, really great. We all start somewhere. For me, my journey with Yes began when I was a teenager gently fishing out the Yes album out of its sleeve being just a bit freaked by the disembodied head on the cover, placing the needle on the groove, sitting back, letting the music wash over me. I may have smoked a cigarette or something [laughter] but Yes were my gateway band in so many ways. There's nothing so fleeting yet enduring about the way music feels when you're 17 years old.

As Yes played in my room, I played too. I spent hours picking my way through songs like "Starship Trooper" and "Yours Is No Disgrace." How wonderful is that swirling outro in "Starship Trooper"? I must've played that a million times. But I loved their music. Even more, once I learned to master ... not that I never really did. I never did them justice. But I loved them still. Yes helped give me the gift of music, which is everything as you know. They made me want to be a better musician and that provided some of the determination to one day stand on this stage giving tribute to this amazing band.

I'll leave you with this: the musical choices we make in our youth help to mold who we become. Choose the guitar intro for "Going for the One." Choose learning to play "Starship Trooper" on a cheap secondhand guitar. Choose Chris Squire's amazing bass tone. Choose Jon Anderson's ethereal vocals. Choose Fragile. Choose wearing a cape before Rick Wakeman did. This guy right here. Choose staying out all night to see your favorite band. Choose "Roundabout." Choose the glorious guitar work in "Owner of a Lonely Heart." So beautiful. Choose the Rock and Roll Hall of Fame. And definitely, choose Yes.

Lee: Blah, blah, blah. [Laughter] I'd like to ask the Rock and Roll Hall of Fame to indulge me a few moments to share some personal experiences of Yes, the band. So picture this: in the early Seventies, I spent from one to three years in Grade 10 in high school seated at the back of the class with my new pal Oscar. He sat just across from me, and the teacher's words were bouncing aimlessly off us as Oscar riffed on some of our favorite Monty Python skits. He had me at the dead parrot gag. How could we not become friends? But it wasn't just the Ministry of Silly Walks that we bonded over.

I could still recall one of the days that we opted out of school and were sitting cross-legged on the floor of Oscar's room as he introduced me to an album called Time and a Word by a band called Yes that I never heard of. I still thrill to the bass part in "No Opportunity Necessary, No Experience Needed" the way I did the first time I heard it that day. For years people asked me why I played a Rickenbacker bass, and all I have to do is point to that album, that song and Chris Squire's incredibly original playing. Then Oscar played me "Yours Is No Disgrace" then "I've Seen All Good People." We both sat there open-mouthed as the songs rose up around us and our musical worlds shifted and fell from its axis. I might've been a young musician jamming in basement grooves in Toronto, but through Yes, I was tuning into a wider world of possibilities. One where music seemed to have no limitations.

It was a crisp night in 1972 when Oscar and myself and this guy, Alex Lifeson, wind up overnight around the block in what was then Toronto's Maple Leaf Gardens to finally witness Yes live for ourselves. The sky was a high dome of stars, and as I recall, Alex kept us going by nipping to the store and bringing back honeydew drinks. Really. I could close my eyes now and I'm back there. Intellectually, visually, viscerally sitting in row 10. It was like nothing I'd ever seen or experienced before. It was actually profound.

It's not overstating things to say it changed the way I played and listened to music forever. So here we are, decades later, and the music of Yes is still echoing down through the years, showing me that music truly is a continuum. On behalf of Oscar, my good friend and Alex's Neil, who is not here tonight, Alex and myself, I say thank you, Yes. It's our great, great privilege and our great honor to right a terrible wrong and to finally welcome Yes into the Rock and Roll Hall of Fame.
---
Below the fold are photos and videos from the induction ceremony. Click any of the images to enlarge.
---
---
---
---
---

Geddy Lee and Alex Lifeson with Andre Cholmondeley (Photo courtesy of Matt Nunan)



Geddy and Alex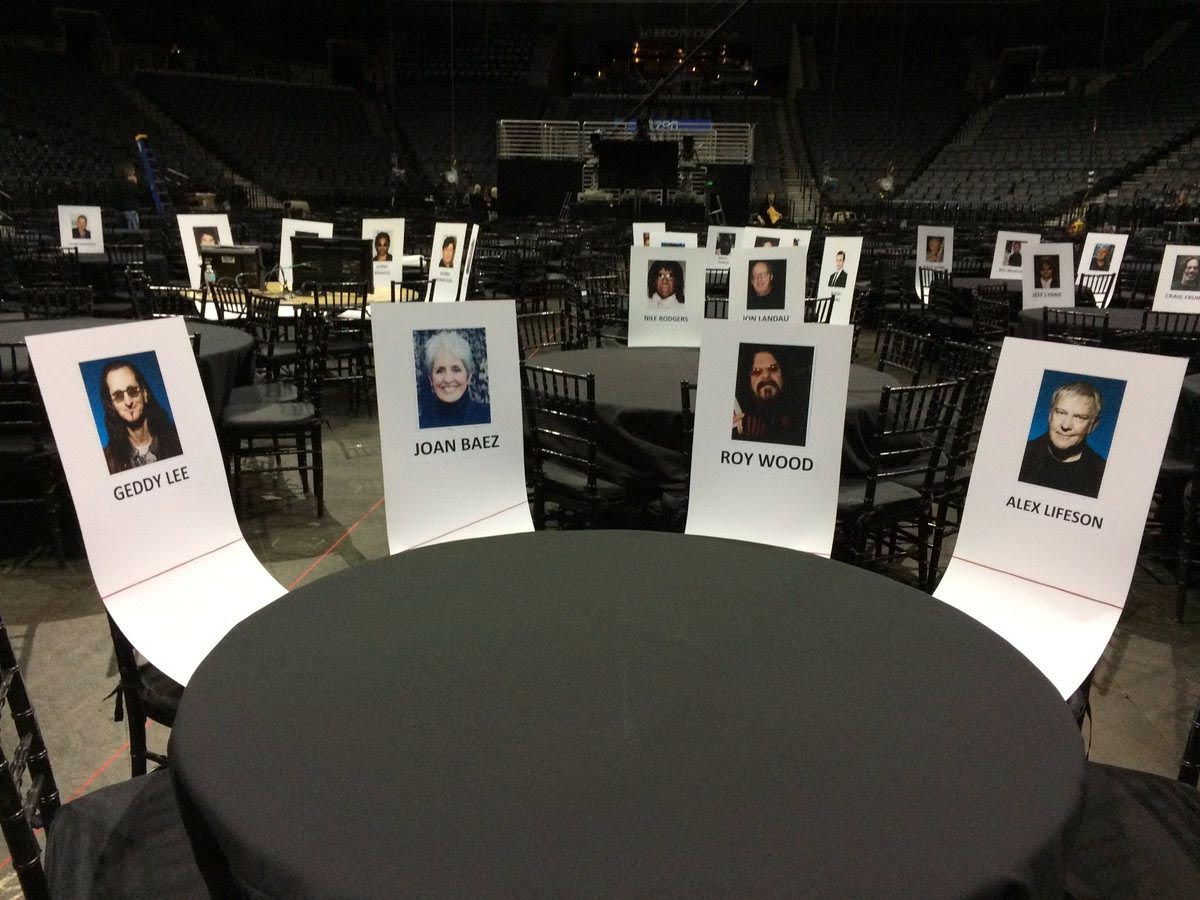 Seating arrangements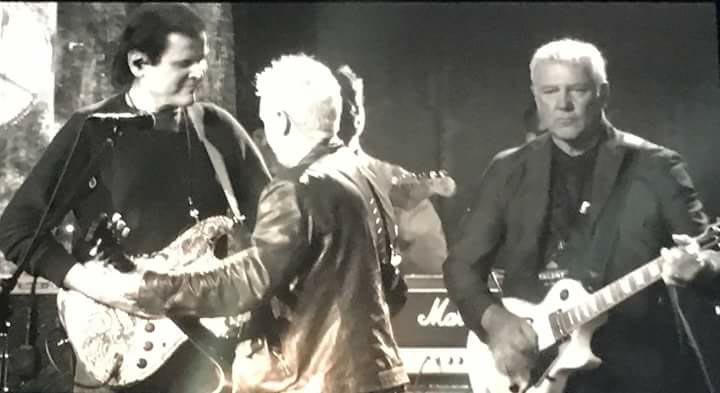 Alex Lifeson rehearsing with Trevor Rabin (Yes), Mike McCready (Pearl Jam)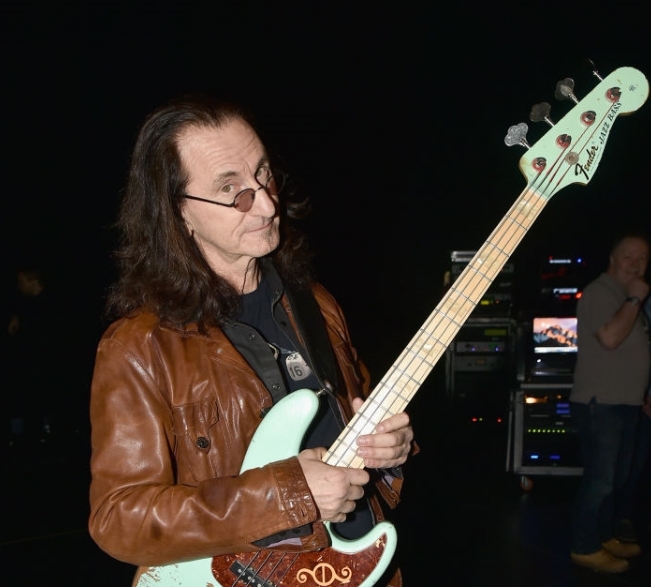 Geddy and his Bass




Geddy and Alex and some friends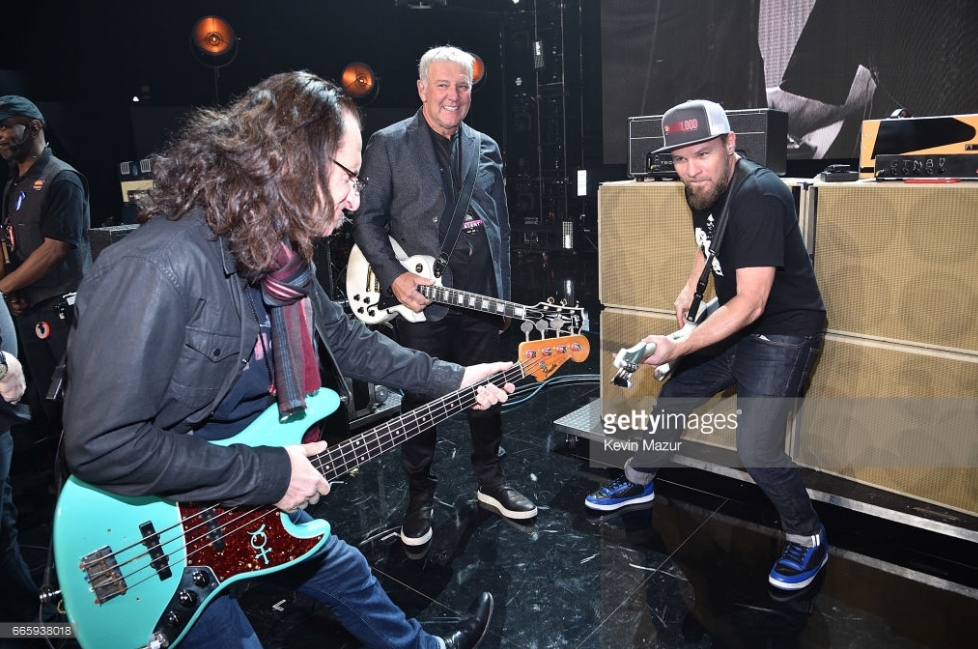 Geddy and Alex and some friends II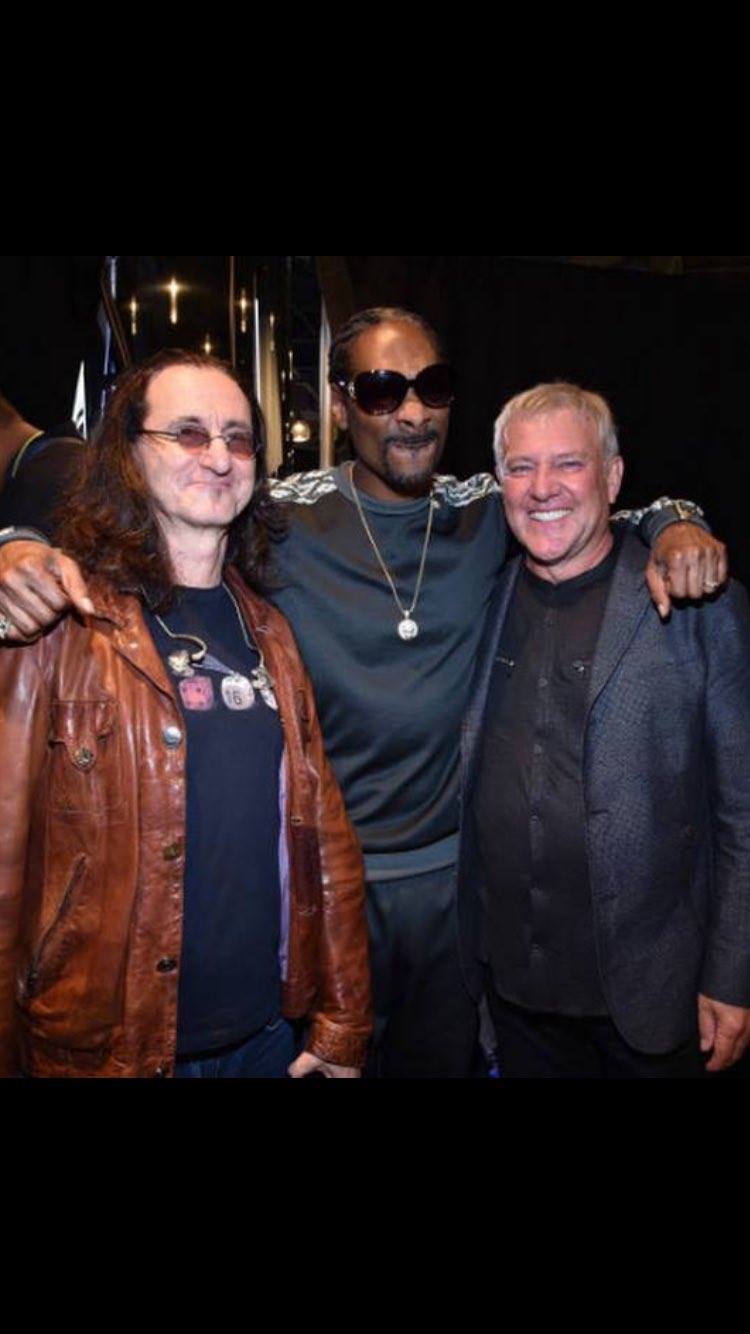 Geddy, Alex, and Snoop Dog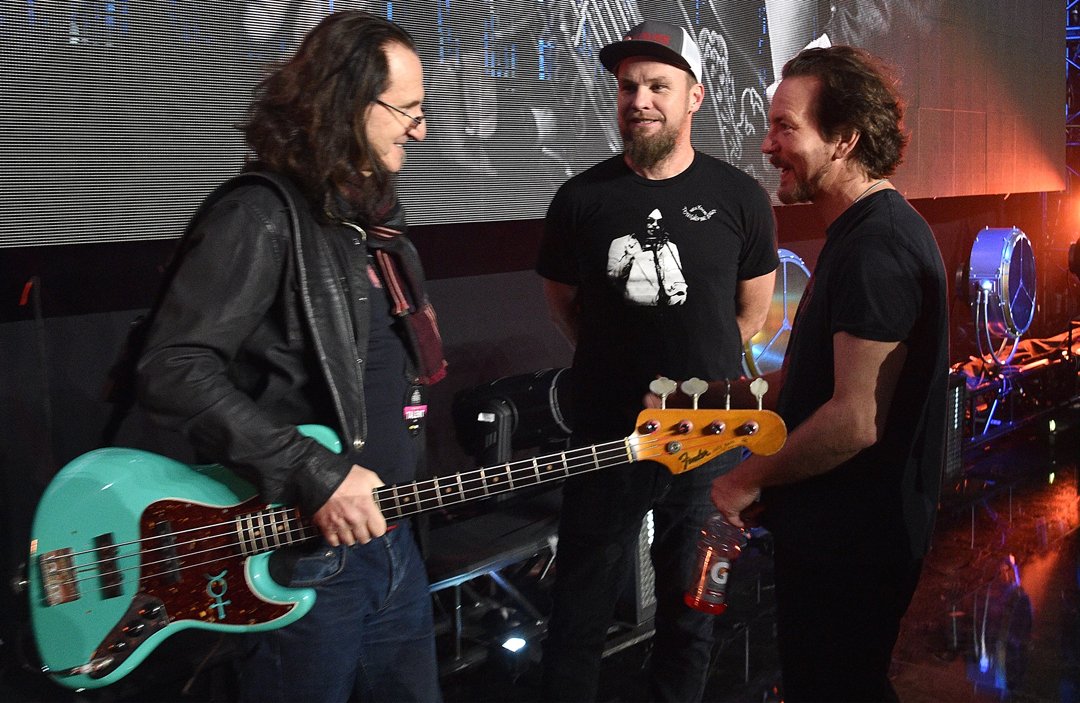 Geddy



Geddy rehearsing with YES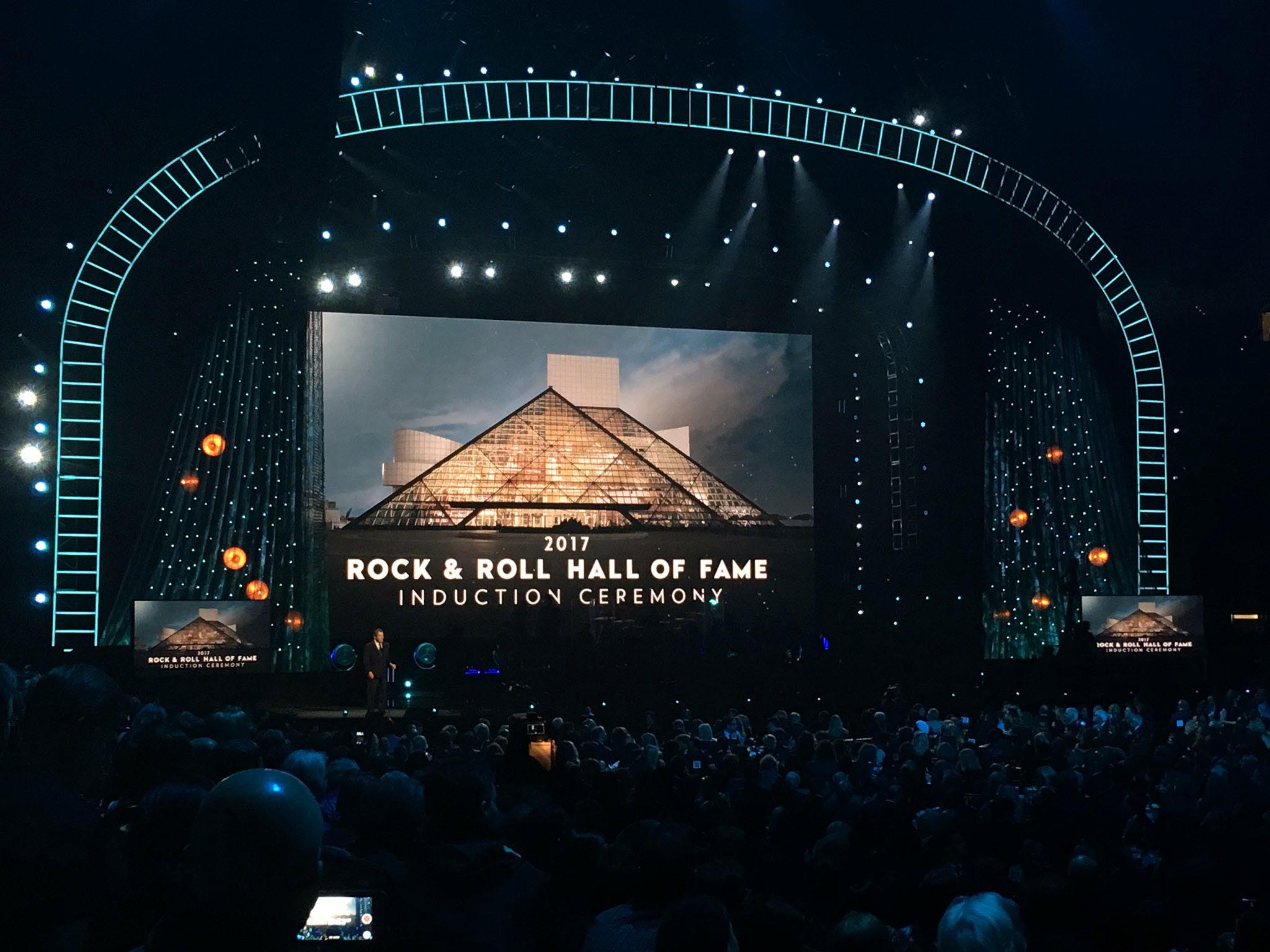 Close to showtime! (Photo courtesy of KellyD)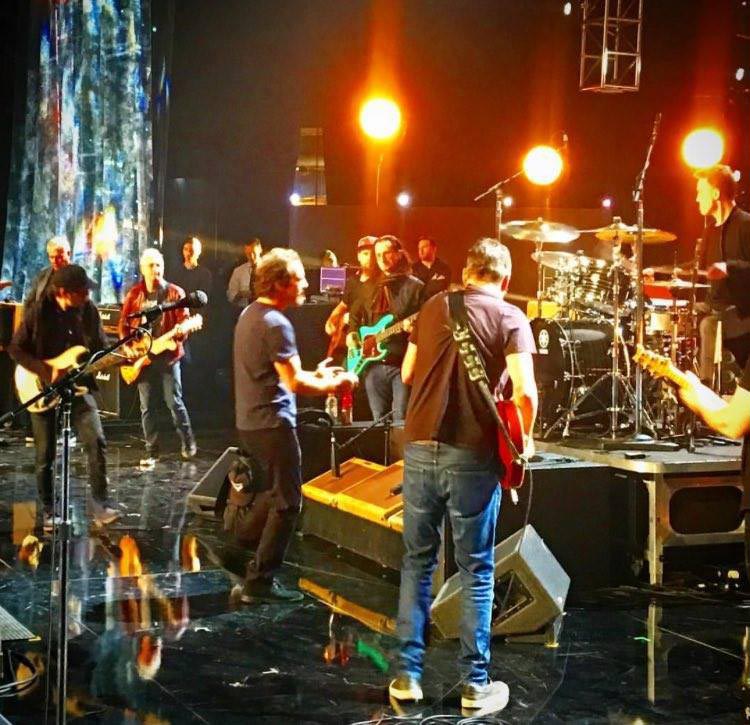 Geddy on Stage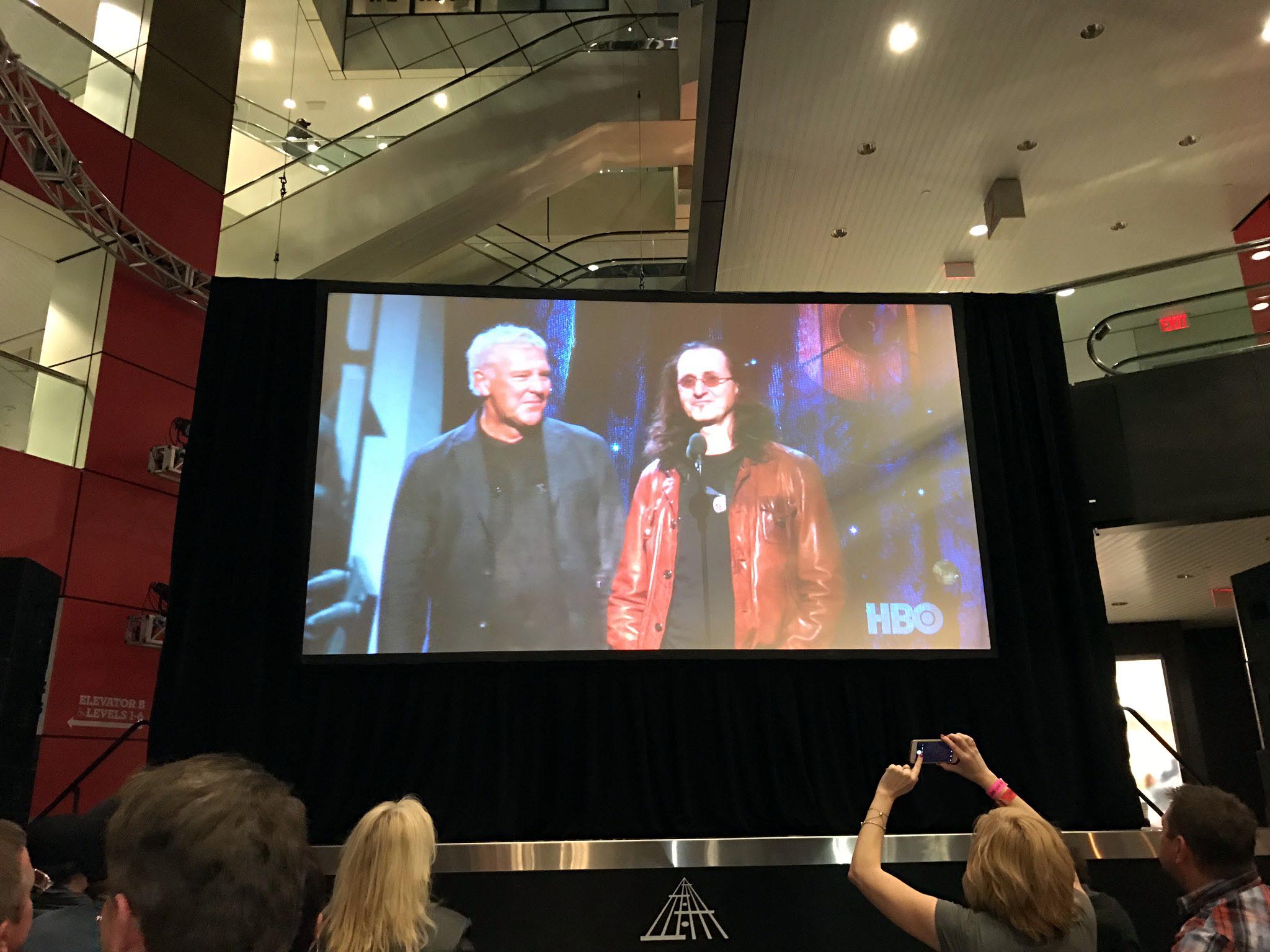 Geddy and Alex (Photo courtesy of Ed Stenger)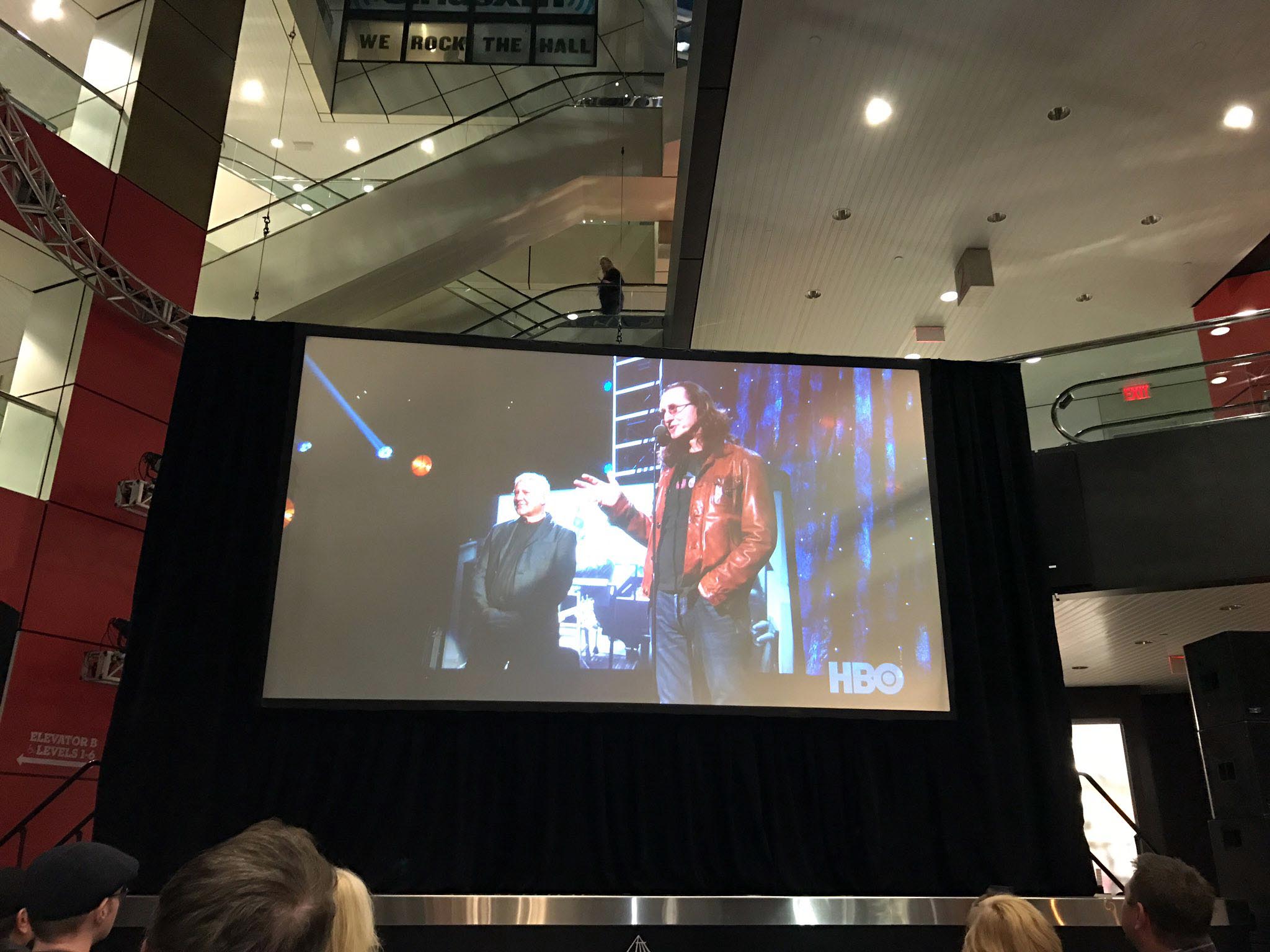 Geddy and Alex (Photo courtesy of Ed Stenger)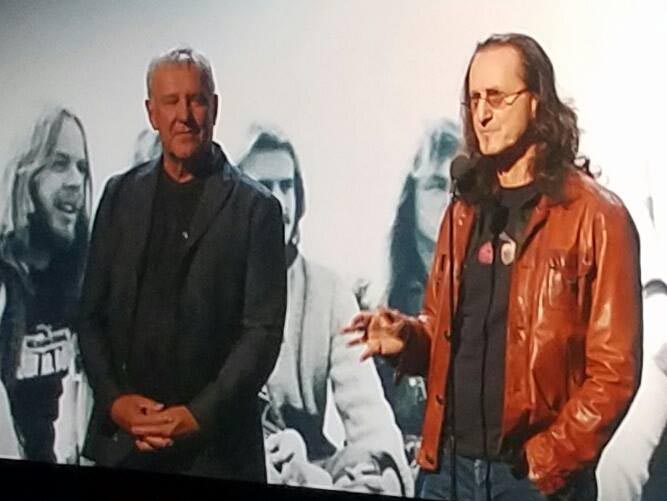 Geddy and Alex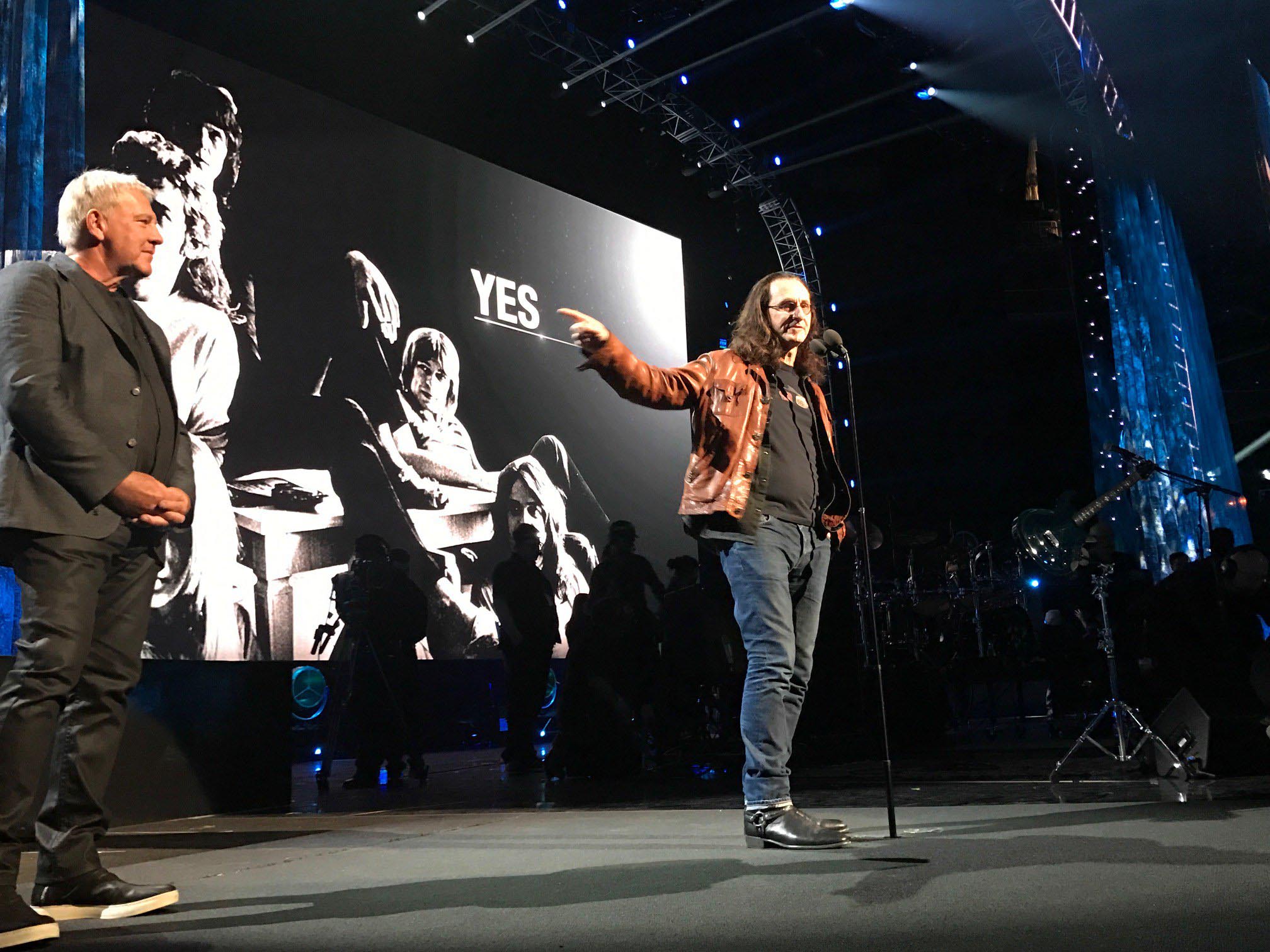 Geddy and Alex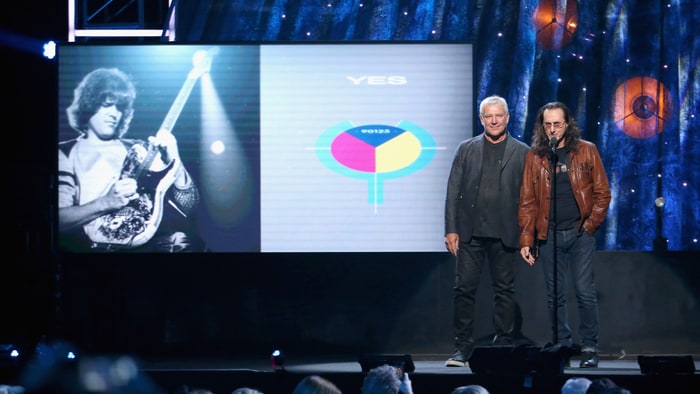 Geddy and Alex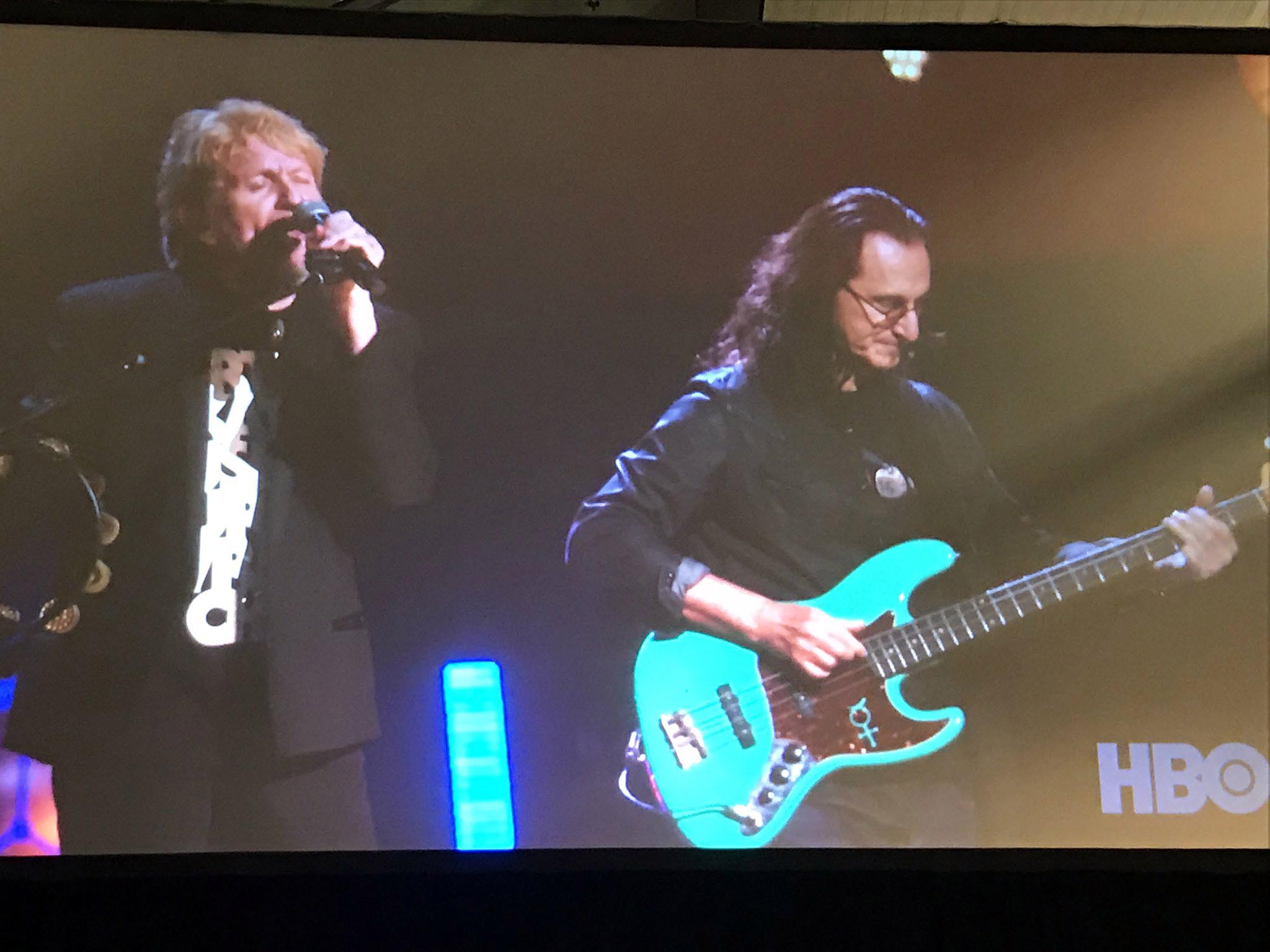 Geddy performing with YES [Roundabout] (Photo courtesy of Ed Stenger)



Geddy and YES [Roundabout] (Photo courtesy of KellyD)



Geddy performing with YES [Roundabout]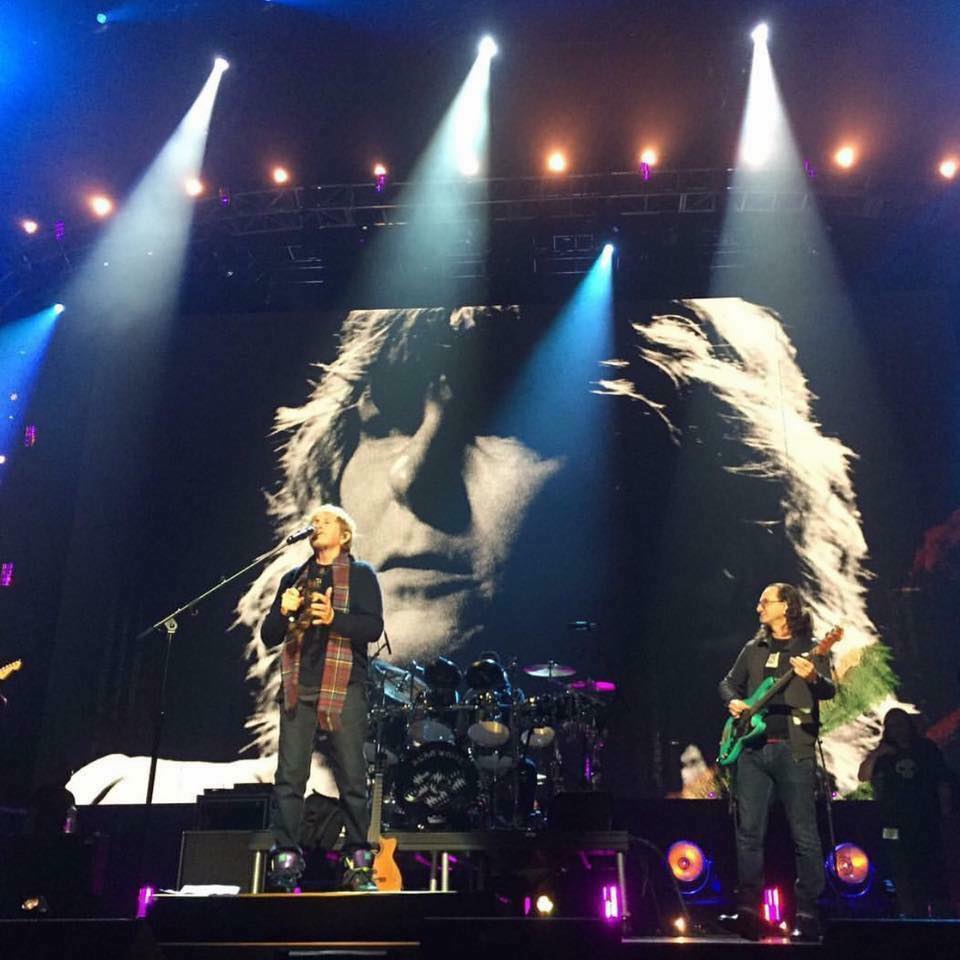 Geddy performing with YES [Roundabout] (Photo courtesy of Glenn Greer)
---