Rush: A Brief History of Time - Part 14 Now Online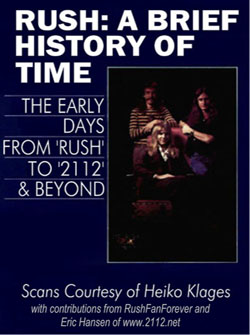 The fourteenth installment of the ongoing series
Rush: A Brief History of Time
, an ever-growing archive of articles, interviews, reviews, and advertisements about Rush that span every decade from the 70's onward, and collected from the world over, is now
online
.
The fourteenth installment includes
235
"new" articles and advertisements; 49 from the 1970's, 10 from the 1980's, 112 from the 1990's, 32 from the 2000's and 32 from the current 2010 decade. Not surprisingly, given the distribution by decade, a large percentage of the articles focus on the
Roll the Bones
and
Counterparts
eras, including numerous album reviews and interviews with the band. The articles from the 1970s contain an eclectic collection of early mentions of the band to reviews of
2112, A Farewell to Kings
and more.
There are also a few early reactions to the band's third album,
Caress of Steel
, including
this one
from New York's
The Spectrum Prodigal Sun
:
"…The music is so disjointed and irregular that it doesn't really matter. Croonings of a horny white whale would fit in just as well…"
Ouch.
Yet
Caress…
did receive some love from
this review
which appeared in New York's
The Stylus of Brockport
:
"…In all, the album is musically very satisfying and can even have a hard core rock reviewer mesmerized by its beauty and ideas. The album was dedicated to the memory of Rod Serling. Now I think I know why…"
There's plenty more to read in this latest installment, including numerous concert and album reviews, as well as a large collection of articles from Germany, France, Italy, Japan, The Netherlands, and other locations.
As always, special thanks go out to Heiko Klages for providing the majority of the articles and advertisements that make up this installment. Additionally, I would like to thank Bob Wegner, Thomas Moore, and Joe Pesch. Thank you, all!
To read the entire fourteenth installment, please click
HERE
.
To check out all fourteen installments of
Rush: A Brief History of Time
, which includes a chronological listing of all the articles (nearly
1,450
in all), please click
HERE
.
---