Alex Lifeson Reveals the Acoustic's Vital Role in Rush's History in New Guitar Player Magazine Interview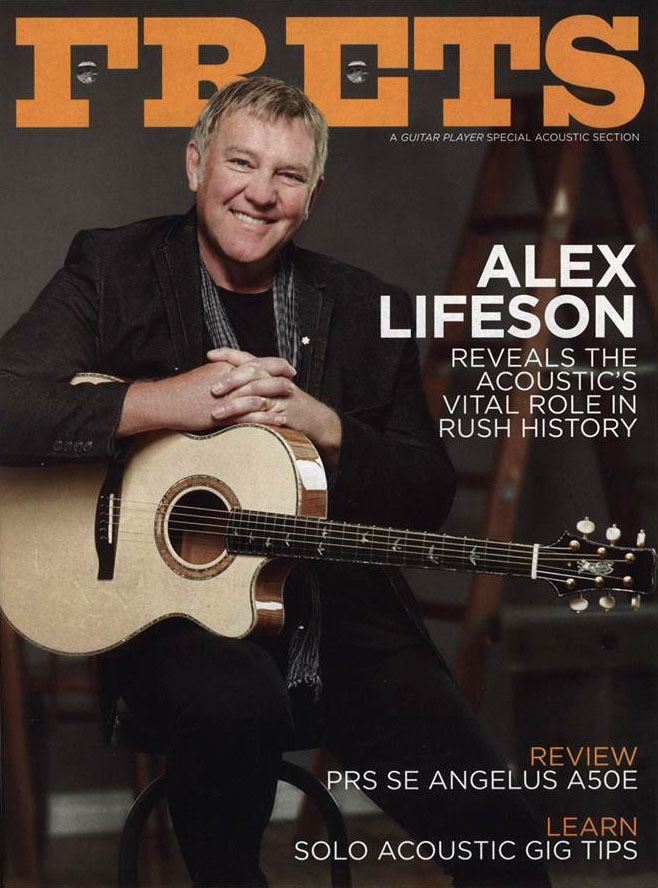 The September 2018 issue of
Guitar Player
magazine includes a lengthy interview with Alex Lifeson in the magazine's special acoustics section called
Frets
. The interview, titled
Progression: Alex Lifeson's Acoustic Chronicles
, has Alex discussing the many roles acoustic guitars have played on numerous Rush albums throughout the years.
From the interview:
What did you use to cut the acoustic tracks "Making Memories," "Rivendell," and "In the End"?
We were really broke back then. I had two electric guitars, and I'd borrow acoustic guitars from friends when we went into the studio. Oscar Peterson Jr. [son of the legendary Canadian jazz pianist] lent me a Gibson J-45 for the Fly by Night sessions.

When did you got your first good steel-string?
That wasn't until 1976 when I went to Gibson and did some shopping. I got my white ES-335 and a double-neck electric, but I also got a beautiful Gibson Dove, which I used for years. I still have that guitar, and it sounds fantastic. Its probably on all of our records.

The Dove famously appears on "Closer to the Heart" from 1977's A Farewell to Kings, correct?
Right, it was the Dove plus a Gibson B-45 12-string.
Little about the future of Rush, or lack thereof, is discussed in the article, save for the closing comment by Alex:
Would you and Geddy ever consider performing stripped-down acoustic versions of your material?

Ged and I are best buds and we talk every few days, but we've never talked about that. He's been so focused on writing a big coffee-table book about basses, but it's almost done. I have a feeling that once he's past this and had a bit of a break, we'll do something for sure. I haven't stopped writing music. I know he's missing that. Whether we'll do something acoustically together, I don't know. I can't imagine we would go back on the road with anything, although it would be kind of nice to do some small theaters.
You can read the entire article at this
LINK
.
---