Rush Featured on the cover of PROG Magazine's April Issue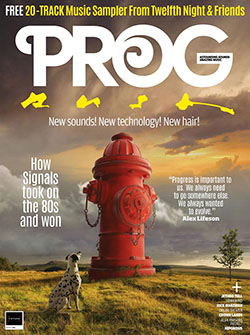 April's issue of PROG Magazine includes a cover feature on Rush and their upcoming release of the Signals 40th Anniversary Box set. The in-depth article, which was written by Dave Everley, also includes samples of the new artwork that Hugh Syme created for the box set.

An excerpt from the article discusses how Chemistry came about:
"We were touring so much that we were limited in the time we had to write for a record, so we utilised soundchecks or even days off, when Ged and I would sit down with a couple of guitars and do a little bit of writing," says Lifeson. "But soundcheck was the best opportunity for us to throw some ideas around – we'd play a couple of songs in full, but also do a little bit of writing. I'm sure there are ancient cassettes headed up to his bandmate's place after the Moving Pictures tour wrapped up in July 1981. He bought with him a tiny, cigarette packet-sized practice amp that he'd been given, and the pair proceeded to construct a primitive record booth by placing the amp and microphone in his guitar case.

"It was our way of isolating the sound," he says. "Chemistry was one of the songs we worked on while I was there."

Chemistry remains the only Rush song to feature a joint Lee/Lifeson/Peart lyric credit.

"Geddy and Alex together came up with the title and concept for the song, wrote out a few key phrases and words that they wanted to get in, then passed it along to me for organisation and a little further development," wrote Peart in Sounds in 1982.
Additional excepts from the magazine are available at this
LINK
.
The Signals 40th Anniversary Box Set will be released on April 28th. You can pre-order your copy
HERE
.
Comments
---