Rush Featured in First U.S. Issue of Red Hot Rock Magazine - Talk of 2015 Tour Continues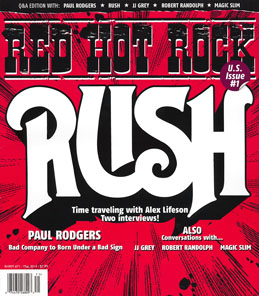 Two interviews with Alex Lifeson, one from March of this year and another from 2009, are included in the first U.S. issue of the Swedish music magazine Red Hot Rock.

In the interview, which is titled Time Traveling with Alex Lifeson and can be read HERE, Alex once again touches upon the possibility of a 2015 tour, similar to the comments he made last month in a Rolling Stone interview.

From the Red Hot Rock article:

"Yeah. You know, you're right. We're on holiday and we sort of decided when the tour ended that we weren't really gonna think about what we were going to do for at least a year. We really needed to take a break. We were working pretty steadily for a lot of years, but particularly the last four or five years. And we really needed an opportunity to clear our heads and catch our breaths. We haven't discussed it too much, but that's just us. All around us, everybody's making plans for us. And it looks like we'll probably be going out next spring. Spring, 2015. So, we haven't discussed anything about the show or about the material or any of that stuff. But we're sort of aiming towards that as the start date for the next tour. But that'll be, I guess, our 41st anniversary tour or 40th plus, whatever. And we'll see how it goes. We need to stay healthy until then, though. Ha ha."

To read both interviews, which are accompanied by two dozen color photos of the band, click HERE.
---