Win A Day with Geddy Lee and Alex Lifeson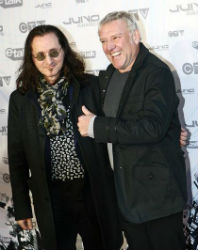 Imagine spending a day with two members of Rush, talking music, sampling wine, sharing a meal. What would seem like a dream to most fans can now be a reality. As part of the John Varvatos 11th Annual Stuart House Benefit, Geddy Lee and Alex Lifeson have "donated" themselves to the cause.

From the auction listing:

Spend an entire day with Geddy Lee and Alex Lifeson of the Canadian rock band RUSH and have a wonderful wine experience!

You and a guest will travel with Lee and Lifeson on a private train to the Niagara winery region outside of Toronto. Your day will include breakfast, picking and learning about grapes, a wine tasting, lunch on the vineyard and a 2-night stay at a Royal York Hotel in Toronto. This package is perfect for wine lovers and fans of RUSH!

Valued at $3,500, bidding for this once-in-a-lifetime event has already surpassed the $20,000 mark.

Bidding ends on Wednesday, April 23rd, 2014 at exactly 3:32:00 PM EDT. For more information and to enter into the bidding war, please click HERE.

Thanks to reader Terry Emerson for the news.
---