All The Gifts Of Life: 40 Years Of Rush's '2112'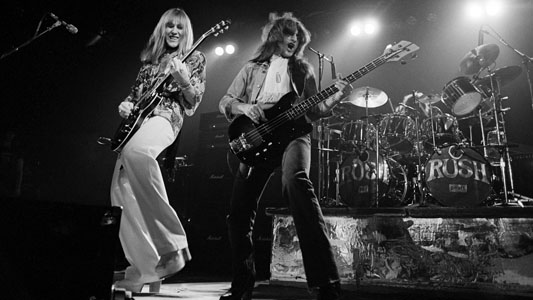 In celebration of its 40th anniversary, Alex Lifeson shares his memories about the making of Rush's classic ground-breaking album 2112 in a new feature interview posted at NPR:

"I remember thinking," Lifeson says candidly, "'I had eight years of playing rock in a band, and it's awesome, I love it, and I don't want to compromise. If this will be the end, I dunno, I'll go back to working with my dad plumbing, or go back to school, or something else.' To me it was impossible to take a step backwards and do something we'd already done just to please a record company."

The story is the stuff of legend. Rush stubbornly stuck to their plan, following up an album that had an ambitious 20-minute conceptual piece with an album with an even more ambitious 20-minute conceptual piece. Structurally 2112 was very much similar to Caress of Steel, only the band's vision was clearer, their musical chops were stronger, the songwriting was more advanced. Best of all, they sounded grown up.

The article closes with Alex's thoughts about Rush being cited as the influence for many other bands -- not only because of their musical prowess but because they did it their way:

"When other bands cite us as an inspiration or an influence, [the theme of 2112 is] what they're talking about, more than anything. I've often read when we're mentioned as an influence for a band they'll say, 'We're big Rush fans, because they did it on their own, they did it their own way, and that told me that I could do the same thing. If I stick with it, persevere, I can do things the way I want them to be.'"

Click HERE to read the entire article.
---