Rush Named the 2017 Allan Slaight Humanitarian Spirit Award Recipients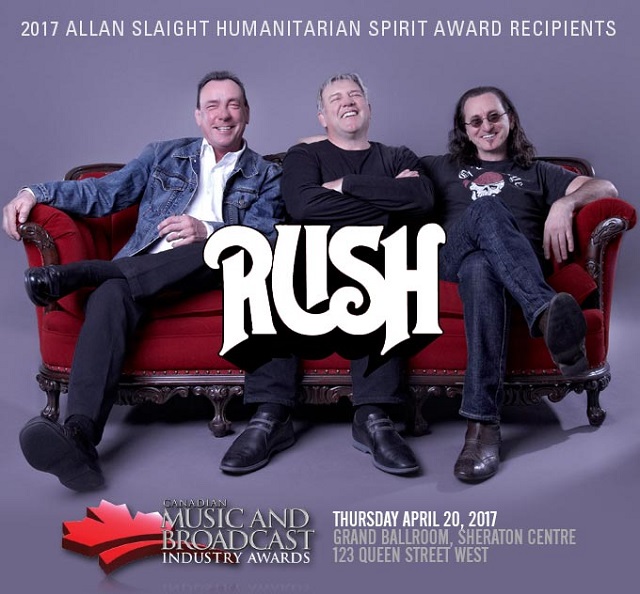 Numerous news outlets including Bravewords have just announced that Rush will be the recipients of the 2017 Allan Slaight Humanitarian Spirit Award:

Canadian Music Week has announced Rush - Geddy Lee, Alex Lifeson and Neil Peart - as the 2017 recipient of the Allan Slaight Humanitarian Spirit Award. The multi-platinum trio will be honoured for their achievements and longstanding career in the music industry, social activism and support of humanitarian causes at the annual Canadian Music & Broadcast Industry Awards Gala Dinner at the Sheraton Centre on Thursday, April 20th, 2017.

"We are so incredibly honoured to receive the Allan Slaight Humanitarian Spirit Award. The depth of Allan and Gary Slaight's generosity, consideration and benevolence has no measure. We will strive to carry forward their spirit of charity and goodwill." - Rush

"My father Allan Slaight believes that giving back to one's community is something we should all strive to do and the members of Rush have made a point of this throughout their career, starting with a United Way benefit-concert at Maple Leaf Gardens in the early '80s when Allan was Chair of the Campaign," said Gary Slaight, President and CEO Slaight Communications Inc. "In recent years, the group has raised money for food banks, Casey House, the Kidney Foundation, Doctors Without Borders, AIDS research; the list goes on. Alex, Geddy and Neil have been in my family's rock 'n' roll life since the early days when we started Q107 in the late 1970s, and it gives me real pleasure today to thank these three exemplary musicians, on behalf of the Slaight Family, in awarding them with the Allan Slaight Humanitarian Award. Good deeds deserve acknowledgement and this is one group that exemplifies the spirit of giving."

"We are proud to be acknowledging Rush's legacy with the Allan Slaight Humanitarian Spirit Award," added Neill Dixon, President & CEO, Canadian Music Week. "We praise their spirit and determination in philanthropic and humanitarian causes, as their dedication to multiple charities and organizations is very inspirational. They have shown extraordinary support in social involvement and charitable causes, and we are excited to celebrate them at this year's awards."

To read the entire article as posted at Bravewords, please click HERE.

Congratulations, Rush!

Thanks to Eric Hansen of Power Windows for passing along the news.
---