Geddy Lee and Alex Lifeson Appear on 'The Strombo Show' - Extended Interview Now Online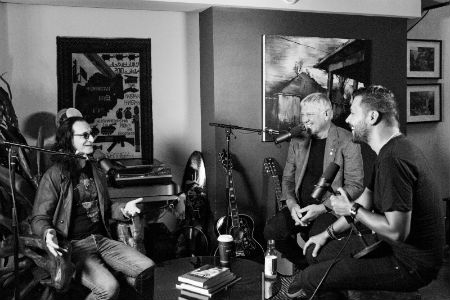 Both Geddy Lee and Alex Lifeson appeared on the Canadian Radio Show 'The Strombo Show' last night. Host George Stroumboulopoulos, who is no stranger to Rush, spoke to the pair about the 40th anniversary of 2112, the R40 tour, the band's induction into the Rock and ROll Hall of Fame, their relationship with the Foo Fighters, Pearl Jam, Geddy's mom and Grohl's mom, electronic dance music, and more.

The entire interview is now available directly at this LINK.

Also, just uploaded today, an extended conversation with both Geddy and Alex has been posted at this LINK. This unedited interview touches upon what's next for Rush.

A photo album of Geddy and Alex's visit has also been uploaded via Dropbox, and can be accessed HERE. Photo credits: Vanessa Heins.

For more information about 'The Strombo Show', please visit their official website at www.strombo.com.

Many thanks to Colton Deddy for passing along the news, and all of the links.
---