Fantoons Releases New Rush Merchandise - Items to Debut at WonderCon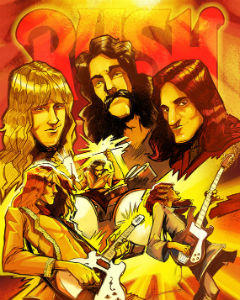 Fantoons, the creative talents behind the incredibly popular Rush Toons book, as well an numerous other Rush-inspired items, are releasing all-new, official Rush merchandise at this weekend's WonderCon show in Anaheim, California (Booth #2210).

Ahead of the show, they've made all of their items available at their Etsy Store. New items include the new baseball-inspired Major Lee Bassball t-shirt, as well as several new limited-edition prints, including this fantastic animated short poster from 'The Early Days of Neil Peart'; the animated short that was only shown in theaters ahead of the Rush documentary Time Stand Still.

You can check out a short video of Fantoon's new merchandise via the embedded viewer below. Make sure to stop by Booth #2210 at WonderCon this weekend, and check out the rest of Fantoons' items at their Etsy Store, Facebook Page, and Twitter Page.




---

---

Thanks, as always, to Fantoons' own David Calcano for all of his exceptional work, and for passing on the news to us.
---