Lighting Director Howard Ungerleider Discusses the Possibility of Rush Touring in the Future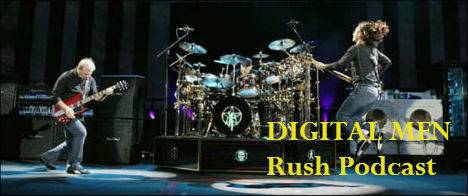 Digital Men: The Ultimate Rush and Prog Podcast
recently sat down with long-time Rush lighting director Howard Ungerleider for an in-depth 90 minute interview for their latest podcast (Episode 52:
The Man Who Lit The Lighted Stage
). The discussion centered around Ungerleider's history with Rush, what it's like being on the road, and some back-stage stories of the band.
The topic of the interview eventually turned to the touring future of the band, for which Howard had the following to say about that possibility:
I don't think so. They may play in the studio together. But I don't see it. I don't really see it happening. I mean, you may ask their manager who says, "absolutely". But you know Ged and Al - they enjoy playing. They'll go and they'll do something. It won't be much, but it may be something different. I don't think [Ged and Al] are finished. Neil's had a rough go. He's had a lot of medical issues that prevent him [from touring]. When you're really good at what you do - like a hockey player or any kind of sports figure - and you're at the top of your game, and then you get injured. You can go back out there, but you're not gonna give it your best. And when all your life you try to give it your best, you don't want to settle for something that's gonna be anything less than that.

It's the choice of, "I have to opt out". That's what the song "Losing It" is about. Check the lyrics. You get to a certain time when you have to say, I'm not gonna make a fool of myself by trying to attempt to do something I'm not capable of doing anymore. I think that what [Neil]'s capable of doing, what he feels is "less" is probably 10 times better than what anyone else could do. At the same time it's self satisfaction - you don't wanna give any less than you're noted for. There are a lot of people out there that go out on that stage and they're not very good. People say just bad things, and you think why are you even doing it. And that's his feeling - I'm not gonna embarrass myself by trying to do something that I know is going to be very difficult. And you gotta respect that.
You can listen to the entire podcast below, or directly at this
LINK
. New episodes are posted every Sunday evening.
---
---
Thanks to
GeddyWannaBe
for the news and
Ed
from
RushIsABand
for the transcription of Howard's comments.
---