Geddy Lee Hits the Interview Trail Ahead of the Release of his Big Beautiful Book of Bass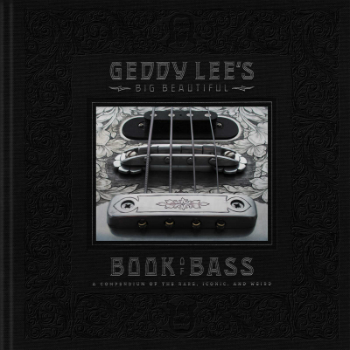 With the release of his book fast approaching,
December 18th
to be exact, Geddy Lee has been busy making the interview rounds to discuss his inaugural authoring effort.
In addition to talking about his book, Geddy spoke with
MusicRadar
about the
"...10 bassists who blew my mind...
". Among the list of 10 was The Who's John Entwistle:
"The Ox! Ever since I first heard My Generation right through to Won't Get Fooled Again or The Real Me… he was quite possibly the greatest rock bassist of all time. I don't think it's a stretch to say that.

"He was a bass player's bass player. He didn't play guitar. He didn't want to do anything other than play awesome bass. He had the dexterity; it was just so fluid, man… a pure joy to listen to. Plus, he could get that twangy tone out of almost any bass he played.
You can read the entire MusicRadar interview at this
LINK
.
Geddy also sat down with Ryan Reed of
Rolling Stone
Magazine for a lengthy interview where the two discussed several topics including Geddy's expansive collection of bass guitars:
You're known primarily for playing Rickenbacker and Fender basses, but you ended up collecting — and, in the book, showcasing — all kinds of other brands.
I realized that I've been so focused on creating my sound that I disregarded as irrelevant anything that didn't fit into the formula I considered feeding my sound — which is kind of foolish but also understandable. For example, I never took Gibson basses seriously because they have a muddier, deeper sound — much harder to get that twang that I love in my sound. So they were pushed off my plate, like when a little kid has peas on his plate — he doesn't want to do there [laughs]. Yet friends of mine played Thunderbirds, for example, and loved them. When I started doing this whole revisionist look at the instrument, I had to check those out. As a player 42 years into my career, how does that feel in my hand? I found that fascinating, and I fell in love with all the bottom end coming out of those basses. I wasn't sure I could use them in the context of Rush, but of course you can. You have the technology to make that adapt to your situation. I brought two T-Birds out on tour with me. I was fascinated by what I found out about the sound of Rush by trying to use those T-Birds.
The entire
Rolling Stone
interview can be read at this
LINK
.
Geddy also talked with
Billboard Magazine
where he expounded on the challenges of talking with Rolling Stone bassist Bill Wyman as well as explaining the inclusion of Wilco's Jeff Tweedy in his book:
Lee says meeting Wyman was particularly thrilling, though he discovered that the retired Stone "has so many outside interests the last thing he wants to talk about is the bass guitar, so I had to keep bringing him back to the reason I was sitting there with him." And while Tweedy's inclusion may raise eyebrows, Lee affirms that he, too, is "a fantastic collector of everything...And people forget he started off as a bass player, too."
The full
Billboard
interview is available
HERE
Next up for Geddy are the first two signing events for his book; the first occurring Monday, December 17th in
Toronto
, followed by a second event the next day in
New Jersey
.
You can order a copy of Geddy's book at this
LINK
.
---
---