Geddy Lee talks Led Zeppelin IV in new Classic Rock interview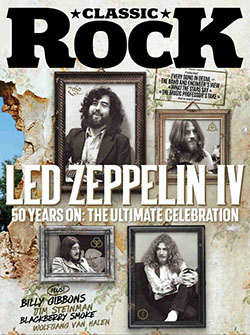 Geddy Lee recently talked to Classic Rock magazine about the impact Led Zeppelin had on Rush in their earliest days. In the interview, which appears in the magazine's July 2021 issue, Geddy recalls the first time he, Alex, and John Rutsey attended a Zeppelin concert:
"That wasn't the first time I saw them, that was August 18, 1969. They were doing two shows. We were at the first show. I went with John Rutsey and Alex [Lifeson). It was general admission. We lined up for hours. We got in and we sat in the second row. And I swear they didn't walk out on stage-they floated out. They literally brought the house down, because by the end of the night there was plaster falling from the ceiling.
Geddy also recalled when a call from Robert Plant helped them through one of Rush's darker periods:
"I remember when Page & Plant were touring Walking Into Clarksdale and they came to Toronto. Someone kept calling our office saying they were Robert Plant and they needed to speak to me. No one believed it, but turns out it was him. And we were on hiatus after Selena (Neil's Peart's daughter) had passed away and we were not in a good place. I called Robert back, and he wanted us to come to the show, and I was pretty down in the dumps at that point. And he said no, come to the show, we'll talk. He understood what was going on with the band. I remember him saying: 'You've got to re-join life, and sooner is better than later. So get your ass down here.' So I called Alex up and said we're going to see Page & Plant. And they were totally awesome. They were so nice. There's nothing better than meeting someone you admire for so many years and so many reasons and finding out they're true gents."
You can read the entire interview at this
LINK
.
Thanks to
RushFanForever
for the transcription.
---