Clockwork Angels: The Graphic Novel Now Available for Pre-Order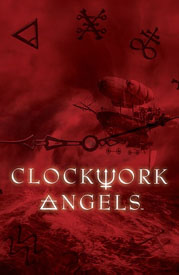 Last month we reported that the novelization of Clockwork Angels would be released in March of 2014 as a graphic novel. Kevin J Anderson recently posted an update about the graphic novel to his blog:

The comic adaptation of CLOCKWORK ANGELS proceeds full steam ahead, and everything is going like clockwork! Boom! Studios will release the first issue in mid-March of the six-issue series. I've written the first script, with the enthusiastic Neil Peart stamp of approval, and we've also looked at the work of various artists that Boom! suggested.

We were very pleased to see the samples from Nick Robles, best known for his work in the gaming industry, and we felt that his style had the right kind of flavor, a flair for color, sense of wonder, innocence, fabulous imagination. Neil and I both loved his work. And when Nick started sending a flood of concept sketches of the characters—Owen Hardy, Mr. Paquette, Lavinia, the Pedlar, the Watchmaker, the Anarchist—and steamliners, the pedlar's steampunk cart, we knew we had the right guy. AND he's a Rush fan, so what more could we ask for?

Pre-Orders of either the first issue of Clockwork Angels: The Graphic Novel or the entire 6-issue set are now available from the Boom Studios website:

Pre-Order Issue #1 HERE - $3.99

Pre-Order 6-Issue Subscription HERE - $29.99

The graphic novel will be released alongside the trade paperback reissue of Clockwork Angels: the Novel from ECW.
---
Related News Stories
['Clockwork Angels' a Heavenly Comics Debut for Rush - Owen Hardy Character Design Revealed - December 11th, 2013]
[Clockwork Angels: The Graphic Novel Coming in April 2014 - November 21st, 2013]

---