Rush Fan Conventions 2014 Update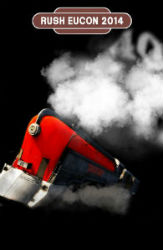 While Rush may be taking a well-deserved break in 2014, Rush fans the world over are continuing to celebrate the music of their favorite Canadian band by holding Rush Fan Conventions throughout the year.

This past Saturday, RushFest Scotland held their convention at the at the Dreadnought Rock club in Scotland. The full day convention was filled with Rush-themed events culminating in a 2-hour set from Scotland's premier Rush tribute band Moving Pictures. The convention also had a charity auction which raised an impressive £3,134.58 for the MacMillan Cancer Support.

For more information and pictures from the event, check out the official RushFest Scotland website and Facebook Page.

The next fan convention taking place this year is RatCon 2014; a smaller, more intimate convention that is limited to 100 guests. RatCon has been around since 2009, with the previous conventions taking place in Maryland. This year's convention, which will take place on July 11th and 12th, has been moved north to New Jersey (yours truly will be in attendance at this one). For complete information on this convention, check out their website (www.rushrat.com) or Facebook Page.

Later, in August, the largest and longest-running North American fan convention will take place. RushCon 14 will run from August 22nd - 24th in Rush's hometown of Toronto, Canada:

Once a year, fans from all over the world gather for several days of activities such as games, a charity auction featuring rare and collectible band memorabilia, a tribute band concert, important guest speakers from inside the band's inner circle and much, much more!

RushCon is a by-the-fans, for-the-fans event where folks have an opportunity to raise money for an important charity whilst having an amazing time learning more about the band, getting to know each other and connecting with other fans from around the world. Over the past 13 years, RushCon members have formed life-long friendships and bonded over their fondness of this band.

This year, RushCon 14 will include a performance from the famed Rush Tribute Band Lotus Land. Also on hand will be three very special guest speakers: Howard Ungerleider, Tony "Jack Secret" Geranios, and Kevin J. Anderson.

For more information about the convention, please check out their website at www.rushcon.org.

Last, and certainly not least, Rush EuCon 2014 will be taking place on October 10th and 11th in Cheshire, UK:

Activities on the day will include a quiz & raffle, an auction for "special" Rush related items and for
those of you who fancy "having a go" in our very own "Rush Idol" contest.

We are also thrilled to announce that the evening's entertainment will be provided by none other than Rush tribute band "La Villa Strangiato" all the way from Italy!

For more information on Europe's largest and longest-running fan convention, please visit their website (www.rusheucon.co.uk).

For all those attending one (or more) of the conventions this year, have a great time! And for all the folks involved in putting these fantastic events together for the Rush fans across the globe, THANK YOU for all that you do!
---