SACD Version of Rush's Presto Coming Soon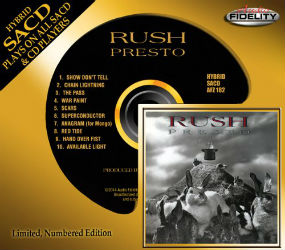 Update (05/21/2014): The SACD version of Presto is now set for release on June 17th. It can be pre-ordered at Amazon.Com via this LINK.

---

Audio Fidelity has just announced the pending release of the fourth Rush album in their SACD (Super Audio CD) format. This time around, Rush's first album during their Atlantic Record days Presto will receive the audiophile-approved treatment.

While no release date was stated at the Audio Fidelity website, the album's retail price was listed at $29.99

Previous SACD treated Rush albums include Hemispheres and Counterparts, both of which were released last year and Roll The Bones which was first made available in 2011.

The SACD format, or Super Audio CD was first introduced back in 1999 as a successor to the audio CD; claiming to offer a better audio dynamics, more channels (e.g. surround sound), and a longer playing time than a standard CD. While the format never gained much traction, a small market still exists, serving the audiophile community.

Thanks to Ed from RushIsABand for the news.
---
Related News Stories
[SACD Version of Rush's Hemispheres Now Available for Pre-Order - July 11th, 2013]
[SACD Version of Rush's Counterparts Now Available for Pre-Order - January 7th, 2013]
[SACD Version of Rush's Counterparts Coming in December - November 13th, 2012]

---