GL61 - Happy Birthday Geddy Lee!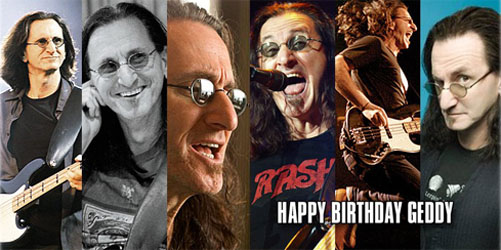 Geddy Lee (born Gary Lee Weinrib) is celebrating his 61st birthday today!

Happy Birthday, Geddy -- and many happy returns! "Gary" was born in the small Toronto village of Willowdale. As many fans know, his given first name "Gary" transformed into "Geddy" during his high school days thanks to his mother's heavily-accented pronunciation of his name.

In addition to his musical aspirations, some of Geddy's other interests include collecting fine wines and, of course, baseball. His wine collection is rumored to include some 5,000 bottles and his love of baseball is well documented. In fact last year, Geddy threw out the ceremonial first pitch at the home opener for the Toronto Blue Jays - something he admittedly dreamed of doing for years.

In addition to today being Geddy's birthday, it is also the 40th anniversary of when Neil Peart joined Rush - cementing the rock trio that would continue through today.

Please join me in congratulating Geddy on reaching his 61st birthday -- and wish him many, many more!