Win a Copy of the SACD Version of Rush's PRESTO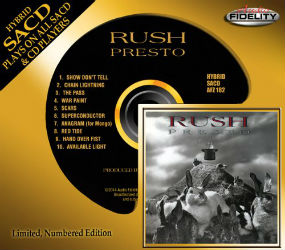 Back in May, we announced that Audio Fidelity was preparing the release of Rush's Presto album using their audiophile-approved SACD (Super Audio CD) treatment. Hemispheres and Counterparts had also received the SACD treatment in the past.

In celebration of the release of Presto, the folks at Audio Fidelity have graciously offered to give away FREE copies of the SACD version of the album to three lucky visitors of Cygnus-X1.Net. To enter the contest, please click HERE. The contest will run throughout July and is open to anyone across the globe.

Presto is now available and can be ordered directly at the Audio Fidelity website. Use the promo code SCARS20 at checkout for 20% off the MSRP price.

Many thanks to Ernie C. and Marshall B. from Audio Fidelity for allowing Cygnus-X1.Net to offer up this great give-away.

Good luck, everyone!

---
Related News Stories
[SACD Version of Rush's Presto Coming Soon - May 31st, 2014]
[SACD Version of Rush's Hemispheres Now Available for Pre-Order - July 11th, 2013]
[SACD Version of Rush's Counterparts Now Available for Pre-Order - January 7th, 2013]
[SACD Version of Rush's Counterparts Coming in December - November 13th, 2012]
---