Autographed Rush R40 Prints Now Available From the Andrew MacNaughtan Art Store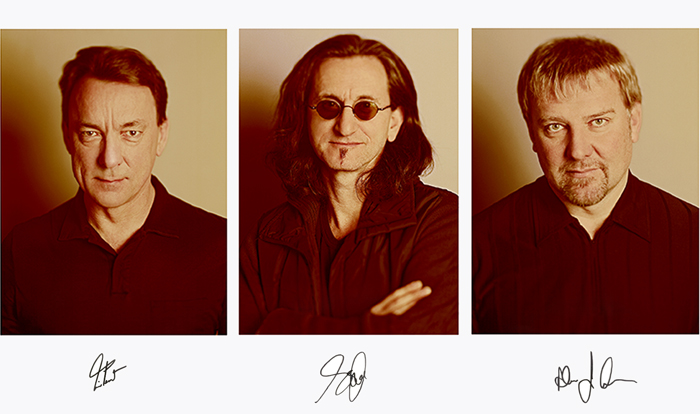 The Andrew MacNaughtan Photographic Arts website has announced the availability of two new autographed prints in celebration of the band's 40th Anniversary Tour. From the website:

To celebrate the historic R40 tour we are very excited to announce the release of two never before released Andrew MacNaughtan images that we feel represent his one of a kind relationship with the band. And speaking of the band, we are thrilled to say they have once again given us full support on this project and were generous enough to hand sign these prints. We have released a very limited 40 editions of each print autographed by all three members of the band.

RUSH LIVE
This 7.5 x 20" Image is printed on high quality 17 x 22" Hahnemühle Silk Baryta Photography Paper

Our first print highlights Andrew's unprecedented access to the band as they played live on the Vapor Trails Tour. We chose this shot because it also includes the fans in a pure moment of electricity. The band, the music and the fans all in harmony with Andrew in the perfect spot to capture it. As a lifelong fan himself this is truly a moment only Andrew could have captured.




RUSH PORTRAIT TRIO
This 8 x 18" Image is printed on high quality 17 x 22" Hahnemühle Silk Baryta Photography Paper

Our second print shows the other side of Andrew's relationship with the guys. Intimate portraits of each band member originally shot for Feedback in 2004 This print is a reminder of the close personal ties each shared with Andrew over their 25 plus years working together. The result an artful, honest reflection on the three men behind 40 years of incredible music.

We are very honoured by your continued support of Andrew's work and know he would have been as excited as all of you about this tour which is why we wanted to be sure to celebrate this great moment in Rush history with you all from the perspective of someone who was a lifelong fan and not only had unprecedented access but a unique relationship that lasted over 2 decades. Andrew MacNaughtan will forever be intertwined with Rush and we couldn't be more proud. Please enjoy.

For more information and ordering information, please click HERE.
---