Rush Return to New York City - Set to Close Out the 2nd Leg of Their R40 Tour at Madison Square Garden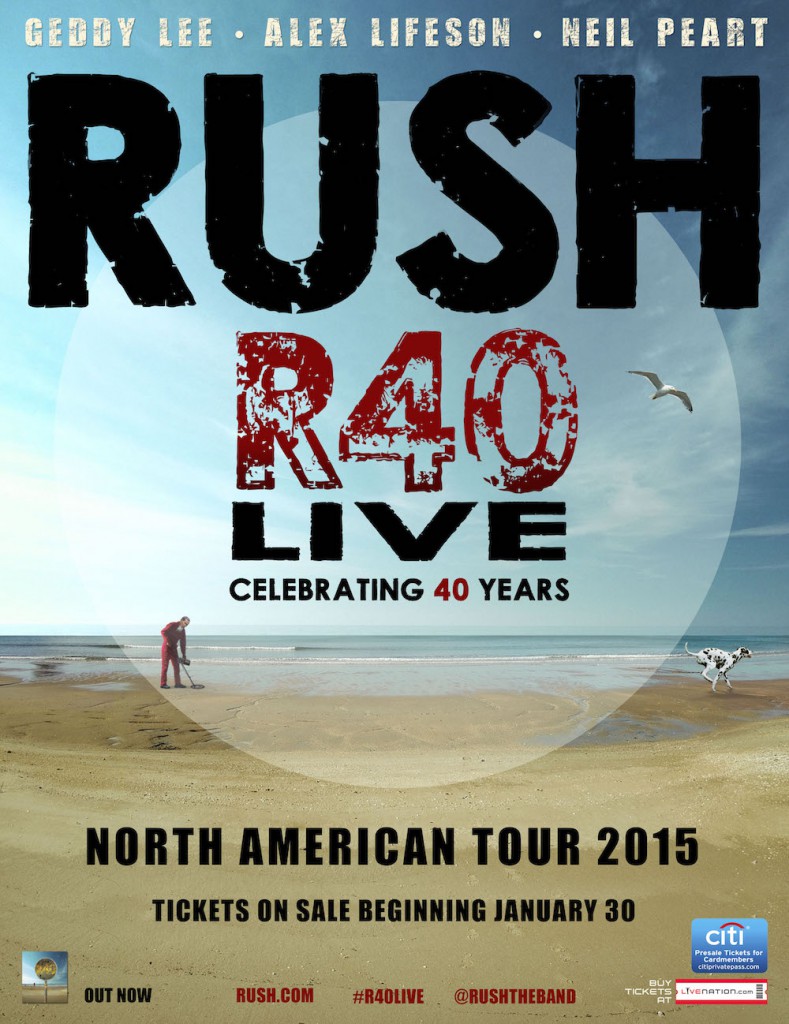 Update: Click HERE for a collection of pictures I took at the MSG show. Enjoy!

---

Rush are set to perform the 23rd show of their ongoing R40 Live 40th Anniversary Tour in New York City's famed Madison Square Garden tonight. This performance will mark the band's 13th appearance in Madison Square Garden, dating back to 1981 when they first took the stage of the world-famous venue during their Moving Pictures tour.

Tonight's performance will be the final show of the second leg of the tour. The band will then take a 10-day break before opening up the third and final (?) leg of the tour on July 10th at the Sprint Center in Kansas City, Missouri.

The second leg of the tour has seen the band shake things up a bit with regards to the set list. Where the band performed three distinct set lists, in order, during the first leg of the tour, two new set lists were added this time around and the order of when each is performed has been shuffled a bit. So if you think you know which set list you'll be treated to when the band comes to your area, don't be too sure :)

As we reported earlier, Rush recorded and filmed the two shows performed in their home town of Toronto earlier this month. News on when a live album and concert DVD will be made available is still forthcoming, though it's possible they'll have it ready in time for the 2015 holiday season (purely speculation at this point).

There have been other surprises, however in the interest of not sharing spoilers directly here, I'll simply say that, if you want to see what's been going on during the second leg of the tour, check out the R40 Set List Page.

For those of you, like myself, who are going to the show tonight, have a great time! Hope to see some of you there.

Key R40 Tour Links:




Stay tuned for more tour updates, set list changes, and photos!
---
Related News Stories
[Rush Return Home to Toronto - June 17th, 2015]
[Rush To Film R40 Live Tour in Toronto (YYZ) - June 5th, 2015]
[Rush R40 Live 40th Anniversary Tour Update - First Leg Set to End in Virginia - May 30th, 2015]
[R40 Live 40th Anniversary Tour Update - First Week is in the Books - May 15th, 2015]
[Rush's R40 Live 40th Anniversary Tour Launches Tonight - Set List and Pictures Revealed Live! - May 8th, 2015]
[Countdown to R40: Rush Have Arrived in Tulsa! - May 1st, 2015]
[Alex Lifeson Talks About Rush's R40 Tour in New Interview - April 28th, 2015]
[Win a Meet & Greet with Members of Rush! - April 11th, 2015]
[Attention Rush Fans! Rush Wants Your Photos for Their R40 Live Tour - March 14th, 2015]
["Rush Currently Rehearsing in Los Angeles Ahead of R40 Tour - April 5th, 2015]
["Get Everyone to R40" Online Funding Event Now Underway - March 10th, 2015]
[Neil Peart Discusses the R40 Drum Kit in a New Video - January 27th, 2015]
[Alex Lifeson Stops By Q107 To Talk About The New R40 Tour - Cleveland Stop Still Possible - January 26th, 2015]
[Rush Announce R40 Live 40th Anniversary Tour - Band to Perform in 34 Cities Across North America - January 22nd, 2015]
[Rush 2015 Tour Rumors Begin To Gain Steam - December 30th, 2014]
---