Alex Lifeson Participates in the 2015 Kidney Foundation's "A Brush of Hope" Charity Auction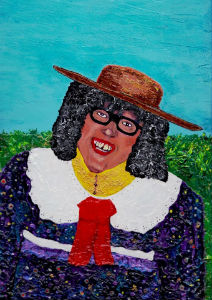 As he has done numerous times in the past, Alex Lifeson has once again created a painting which will be auctioned off for this year's A Brush of Hope charity auction, an event sponsored by The Kidney Foundation of Canada.

Alex's submission from last year, which featured an image of him and Geddy enjoying a glass of wine, fetched an impressive $10,100 at auction. This year's entry, titled "Blind Date Picnic", is, well, interesting the say the least. From the announcement:

Here it is! "Blind Date Picnic" created by Alex Lifeson of Rush! Last year, Alex's painting "L'ami Getty a L'ami Louis" went for over $10,000.00!!

Alex has been A Brush of Hope's feature artist since 2006. His paintings and limited edition prints (available at www.kidney.ca/atlantic/alexlifeson) have brought in over $200,000.

Don't miss your chance to own an Alex Lifeson original! Login to ebay.ca from October 31st to November 9th to place your bid!

For the latest up-to-date information on the auction and other news, please make sure to follow A Brush of Hope's Facebook Page.

We'll have a link to this year's auction once it becomes available.
---