Rush's R40 Live Album Artwork, Tracking Listing, And More Revealed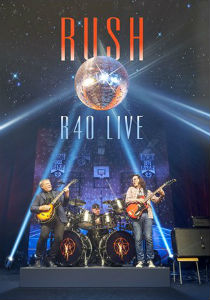 Update: The official trailer for R40 Live is now online.

---

Last month we reported that Rush's upcoming live album and video, titled R40 Live, would be available on November 20th. Over the past couple of days, new information and pre-order links have been revealed.

The Rush Backstage Club has revealed the "artwork" and track-listing of both the CD and DVD/BD version of the live offering.

From the listing:

All roads have led to this. Forty-one years in the making, the R40 Live tour took a very real journey back through time. Beginning with the grand design: a state-of-the-art stage set that pivots, rolls and dives, and brings Clockwork Angels in to bombastic, colorful life before marching stridently back in time (through theatre stages, a panoply of band and fan shots, the accrued memories of a life spent playing live) to a mocked-up school gym and the band playing there; a solitary bass amp set on the chair behind Geddy Lee, a mirror ball spiraling crazily above, casting thin rods of light like a light rain across the crowd, "Working Man" coming to a shuddering halt as the band's beginning becomes their end.

Rush recorded and filmed R40 Live over two sold-out shows in the band's hometown of Toronto at the Air Canada Centre on June 17 & 19, 2015 in the middle of their R40 Live 35-date North American tour.

R40 Live had the trio of Geddy Lee, Alex Lifeson and Neil Peart, performing a career-spanning live retrospective, celebrating their 40+ years together. The epic live shows by the Rock Hall of Famers were captured with 14 cameras to present the band feature-film style.

Set One
The World is .. The World is ...
The Anarchist
Headlong Flight
Far Cry
The Main Monkey Business
How It Is
Animate
Roll the Bones
Between the Wheels
Losing It (with Ben Mink)
Subdivisions

Set Two
No Country for Old Hens
Tom Sawyer
YYZ
The Spirit of Radio
Natural Science
Jacob's Ladder
Hemispheres: Prelude
Cygnus X-1/The Story So Far (drum solo)
Closer to the Heart
Xanadu
2112

Encore
Mel's Rockpile (with Eugene Levy)
Lakeside Park/Anthem
What You're Doing/Working Man
Exit Stage Left

Bonus
One Little Victory
Distant Early Warning
Red Barchetta

Also, according to the Backstage Club, R40 Live will be available in several package offerings including DVD, Blu-Ray, CD, as well as a deluxe 2 DVD/3 CD set and a deluxe Blu-Ray / 3 CD Set.

Amazon.com has pre-order links now available for multiple versions of R40 Live:




---

---

We'll have more news on this release as it becomes available.
---
Related News Stories
[Rush's R40 Live Album and Concert Film Coming November 20th. First Single Released Next Week - September 18th, 2015]
---