Rush's R40 Live to be Screened in London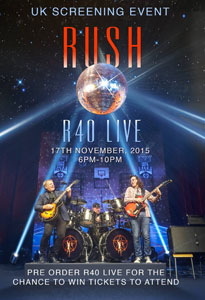 Though UK fans did not have the opportunity to see Rush perform live in their native land during the R40 tour, they will be treated to an exclusive advanced screening of R40 Live on the big screen.

From the annoucement from Rush.Com:

UK Fans,

There will be an exclusive, one-off advanced screening of R40 Live – hosted by Team Rock's Jerry Ewing, 17th November @ Gibson Showrooms, London, UK.

To attend, simply pre-order R40 Live from this store link and you'll be entered into a draw to win tickets.

Click HERE for more information from Rush.Com.

At this point, there is no information regarding the availability of tickets through other sources. Further, no word yet on a possible North American screening of R40 Live.

Rush has been teasing the upcoming release of R40 Live with video releases of Closer to the Heart, Roll The Bones, and Jacob's Ladder.

Amazon.com has pre-order links now available for multiple versions of R40 Live:




---

---

We'll have more news on this release and the UK (and other) screenings as it becomes available.
---
Related News Stories
[Rush's R40 Live Album Artwork, Tracking Listing, And More Revealed - October 8th, 2015]
[Rush's R40 Live Album and Concert Film Coming November 20th. First Single Released Next Week - September 18th, 2015]

---