From the Riser: A Drummer's Perspective II with Forward by Neil Peart Now Available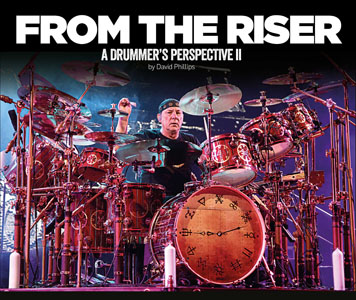 David Phillips is proud to launch his latest book, From The Riser: A Drummer's Perspective II, a follow up to the critically acclaimed A Drummer's Perspective.

The beautifully designed, From The Riser is a photographic celebration of many of today's greatest drummers and percussionists. It unashamedly captures the energy, emotion and elegance of the world's best, playing with the world's greatest bands.

The book features two hundred and seventy previously unseen photographs taken exclusively by the author. It includes over one hundred and thirty legendary drummers including Neil Peart (Rush), Gary Wallis (Pink Floyd), Graham Broad (Roger Waters), Deen Castronovo (Journey), Gavin Harrison (King Crimson), Ginger Baker (Cream), Ian Paice (Deep Purple), Marco Minnemann (Joe Satriani), Martin Axenrot (Opeth), Craig Blundell (Steven Wilson) Mike Mangini (Dream Theater), Stewart Copeland (The Police), Terry Bozzio (Frank Zappa), Todd Sucherman (Styx) and many more. Included alongside the many striking images is a record of Phillips' cherished collection of backstage passes, set lists and other memorabilia.

Peart, who penned the foreword for the book says 'not many photographers have captured that performance art as well as David ... One accomplishment is simply collecting photographs ... but the greater gift is delivering such iconic images.'

This ambitious book, with over one hundred and eighty pages, is a lavish tribute to drumming and drummers, which reflects Phillip's intuitive knowledge and deep respect of all things percussion. It is a complete compendium, packed with expressive, jaw-dropping photos. To get shots like this you have to understand drummers, drums and playing live.

From The Riser: A Drummer's Perspective II retails for £29.99 ($39.99, €35.50) and is only available to purchase from the Author's website www.music-images.co.uk.

Thanks to David Phillips for passing along the news on his new book.
---