Geddy Lee Interviewed in the December Issue of Classic Rock Magazine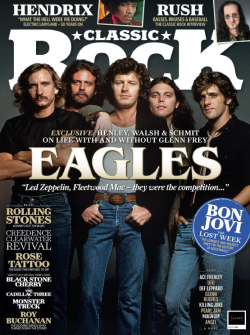 The December 2018 issue of the UK's
Classic Rock
magazine includes a new, lengthy interview with Geddy Lee. The interview touches upon numerous topics including early influences, Geddy's continuing fascination with bass guitars, his upcoming
Big Beautiful Book Of Bass
coffee table book, and his various and extensive collections:
Remarkably, you've only been collecting bass guitars since 2012, but you've always collected, haven't you?
All my life: wine, baseballs, art, stamps! For me, these things, these obsessions are windows into time and culture that goes beyond the thing you're holding in your hands, a guitar can tell you a little something about the history of California in the 1950s, or what were The Beatles doing in Hamburg when they walked into a guitar store and saw a certain model on the wall and changed the world. I look at wine and baseball and art and music and craftsmanship as things that have an aura about them that resonates more than the thing itself, and I think that's what I've always found fascinating.
Of course the topic of the future was asked, to which Geddy had this to say:
Going back to the day job, what's next for you and your music?
I'm going to start going down to the studio and start using all those basses that are staring me in the face and see what happens. I'm not going to promise that I'm going to do a record, this is the way I look at life right now. I kept my family waiting for me for forty-two years, and I'm not doing anything ever again that keeps them waiting. I owe it to my beautiful, fantastic wife to be with her when she can stand me being with her, and I owe it to my grandson to be around and my mother now that she's older, and my kids. So that's my first priority right now. But I still love music and I think I still have something to say, but I won't know that until I start banging away downstairs. If I start banging away and it feels like I have something valid to put out there, then I'll go ahead and follow that dream. Well, with my family's permission.
The entire interview has been transcribed and posted to the main site. You can access it directly via this
LINK
.
Thanks to
RushFanForever
for passing along the news.
---