Rush: Live in Cleveland Concert Movie - New Details Emerge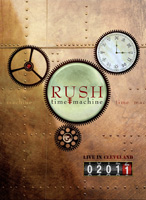 New details are beginning to emerge on the upcoming concert film Rush Time Machine 2011: Live in Cleveland. From the listing on Amazon UK:

Rush's Time Machine shows in 2010 / 11 were one of the most anticipated tours ever. Celebrating 30 years since the 1981 release of their classic bestselling album Moving Pictures the band performed the entire album live for the first time as the centrepiece of the concerts. The shows also featured favourite tracks from across their lengthy career and two new songs expected to feature on their next studio album. As ever the concerts were a visual feast and sounded great with the band playing at the top of their form. Reviews for the tour have been amazing from both fans and critics alike and this Blu-ray release is guaranteed to appeal to Rush fans everywhere. Bonus Features Alternative ending for The Real History Of Rush: Episode 2; Outtakes from History Of Rush: Episodes 2 & 17; Outtakes from I Still Love You Man; Live from Laura Secord Secondary School (full clip from BLTS); Live from Passaic, NJ (full clip from BLTS).

It'll be interesting to see exactly what those final two bonus entries relate to.

Both the DVD and Blu-Ray are still scheduled to be released on October 25th.

To place your pre-order for either version, use the links below.

Rush Time Machine 2011: Live in Cleveland DVD - $16.99
Rush Time Machine 2011: Live in Cleveland Blu-Ray - $22.49

Thanks to RushFanForever for passing along the news.
---
Related News Stories
[
Rush Time Machine 2011: Live in Cleveland DVD Release Date Pushed Out - July 28th, 2011
]
[
Rush Time Machine 2011: Live in Cleveland DVD Now Available for Pre-Order - July 21st, 2011
]
[
Rush Rock Cleveland / New Concert DVD Information - April 16th, 2011
]
---