Neil Peart: Taking Center Stage Nominated for Best Educational Book in Modern Drummer Readers Poll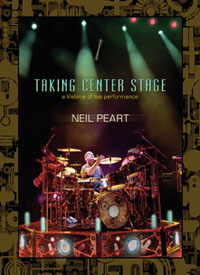 Back in 2011, Neil Peart released the drumming instructional video TAKING CENTER STAGE
a lifetime of live performance. The 3-disc DVD set, where Neil examined the challenges of live performances through his over 30 years of touring the world, was followed up by a companion book in 2012. Joe Bergamini, who both appeared in the video and co-wrote the companion book with Neil, let me know that the book has been nominated for the "Best Educational Book" in a current Modern Drummer Readers Poll. To vote for the book, please click HERE.

In related news, Joe has also released a new book titled Arrival Drum Play-Along which features Zak Rizvi and Frank LaPlaca from Joe's band 4Front. Drummers who enjoy playing along to Rush would probably like jamming to these songs. You can find out about the book here:

www.joebergamini.com and http://www.wizdom-media.com/?product=arrival-drum-play-along.

Finally, Joe also let me know that Neil wrote the foreword for a new Gavin Harrison drum book that Hudson Music will be publishing in January 2014. Neil wrote the forward at home after the tour had ended. The book is a series of drum transcriptions of Gavin's performances with Porcupine Tree, with accompanying text from Gavin himself.

Thanks to Joe Bergamini for the great news!
---