Rush's Clockwork Angels Tour Enters the Billboard Charts at #1 (Video) and #33 (Album)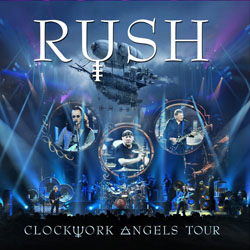 In the first week after its release, Rush's Clockwork Angels Tour Live Concert Film has entered the Billboard Video Charts in the #1 spot!

The live album also entered the Top 200 Albums Chart at the #33 spot.

This marks the third consecutive #1 Concert video that Rush has released, dating back to their 2008 release of Snakes & Arrows Live.

To purchase your copy of Clockwork Angels Tour, please use one of the links below:

Thanks to Michael Lynch for the news.
---
Related News Stories
[Rush's Clockwork Angels Tour to Premiere on VH-1 Classic on Sunday, December 1st - November 20th, 2013]
[Rush's Clockwork Angels Tour Live CD/DVD Now Available - November 19th, 2013]
[Rush's Clockwork Angels Tour Album Now Streaming on Pandora - November 13th, 2013]
[Rush Clockwork Angels Tour Film - Limited Edition Deluxe Package Available from Rush Backstage Club - October 26th, 2013]
[Rush's Clockwork Angels Tour Film - Coming to a Theater Near You? - October 18th, 2013]
[New VH-1 Interview: Rush's Geddy Lee Talks About New Live Recording - October 17th, 2013]
[Clockwork Angels Tour Video Premiere - 'The Garden' Now Online - October 17th, 2013]
[Rush's Clockwork Angels Tour DVD Coming November 19th - Pre-Order Today! - September 16th, 2013]
[Rush's Clockwork Angels Tour Concert Film Trailer Now Online - June 8th, 2013]
[Rush Clockwork Angels Tour DVD Coming in September - February 25th, 2013]
[Rush Clockwork Angels Tour DVD Not Coming May 21st - January 16th, 2013]
[Rush Clockwork Angels Tour DVD Coming May 21st - January 11th, 2013]
---