Rush's Clockwork Angels Tour Live CD/DVD Now Available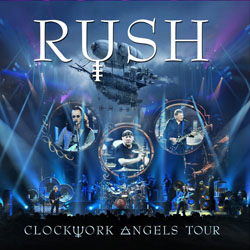 The time is now again, Rush fans. The highly anticipated release of Rush's Clockwork Angels Tour Live CD and DVD are now available.

Recorded over two consecutive tour dates last November in Phoenix and Dallas, the 2-DVD or single Blu-Ray package features over 3 hours of music including favorites Tom Sawyer and The Spirit of Radio, three drum solos, new string arrangements of classics such as YYZ, Dreamline and Red Sector A, and rarely performed songs such as The Body Electric and Middletown Dreams. Extensive bonus features include a full version of Limelight from soundcheck and an exclusive backstage documentary shot throughout Europe. The 3-CD set also features all of the tracks that are included in the DVD/BS packages.

Rush's Clockwork Angels Tour is the eleventh (officially) released live album the band has produced in their decades-spanning career. This live offering continues the pattern of a new live CD/DVD with each new tour that began with 2003's Rush in Rio .

Complete liner notes, track listings, and artwork for the CD and DVD/BD/Limited Edition Deluxe Packaging versions will be uploaded to the main site within the next few days. In the mean time, if you haven't ordered your copies yet, you can do so via the links below.

Please feel free to share your comments and thoughts on the new live album in the comments section below.
---
Related News Stories
[Rush's Clockwork Angels Tour Album Now Streaming on Pandora - November 13th, 2013]
[Rush Clockwork Angels Tour Film - Limited Edition Deluxe Package Available from Rush Backstage Club - October 26th, 2013]
[Rush's Clockwork Angels Tour Film - Coming to a Theater Near You? - October 18th, 2013]
[New VH-1 Interview: Rush's Geddy Lee Talks About New Live Recording - October 17th, 2013]
[Clockwork Angels Tour Video Premiere - 'The Garden' Now Online - October 17th, 2013]
[Rush's Clockwork Angels Tour DVD Coming November 19th - Pre-Order Today! - September 16th, 2013]
[Rush's Clockwork Angels Tour Concert Film Trailer Now Online - June 8th, 2013]
[Rush Clockwork Angels Tour DVD Coming in September - February 25th, 2013]
[Rush Clockwork Angels Tour DVD Not Coming May 21st - January 16th, 2013]
[Rush Clockwork Angels Tour DVD Coming May 21st - January 11th, 2013]
---