New Interview with Kevin J. Anderson on the Graphic Novel Adaptation of Clockwork Angels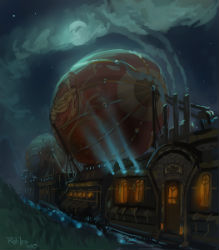 A new interview with Kevin J. Anderson regarding the graphic novel adaptation of Clockwork Angels was posted at the Huffington Post today. The interview/article reveals how the idea of the graphic novel came to be and also includes some new, preliminary artwork.

From the inteview:

"The Clockwork Angels world is so vivid and fantastical it seemed obvious to me from the outset that it would translate well to the comics medium," says Anderson. He is best known for his epic science fiction novels in the Dune and Star Wars universes, as well as his Saga of Seven Suns series and, in a lighter vein, his Dan Shamble, Zombie P.I. novels. Anderson and his wife Rebecca Moesta are the publishers of WordFire Press, the company handles the eBook version of Clockwork Angels. He has scripted numerous comics, including Star Wars, Justice Society, Predator, X-Files, Star Trek, and original works.

At San Diego Comic Con, Anderson showed several comic publishers the Hugh Syme artwork from the novel. He pitched them the idea of expanding the multi-media platform from music to prose to comics. "All of the companies were interested, but said they would have to consider it, have meetings, run numbers," Anderson says. But when he talked with Ross Richie, founder and CEO of Boom! Studios, he received an entirely different response. In an e-mail, Richie wrote, "HOLY CRAP!!! Rush!!!! WHOA!!!! This is so cool!!!!!" Anderson smiles. "That was more in keeping with the enthusiasm we were looking for."

Boom! signed up for a six-issue series that Anderson would script himself with input and art development from Peart, to be collected as a trade paperback graphic novel when the comic run was complete.

Pre-Orders of either the first issue of Clockwork Angels: The Graphic Novel or the entire 6-issue set are now available from the Boom Studios website:

Pre-Order Issue #1 HERE - $3.99

Pre-Order 6-Issue Subscription HERE - $29.99

The graphic novel will be released alongside the trade paperback reissue of Clockwork Angels: the Novel from ECW, which is now available for pre-order.
---
Related News Stories
[Clockwork Angels: The Graphic Novel Now Available for Pre-Order - December 26th, 2013]
['Clockwork Angels' a Heavenly Comics Debut for Rush - Owen Hardy Character Design Revealed - December 11th, 2013]
[Clockwork Angels: The Graphic Novel Coming in April 2014 - November 21st, 2013]

---