Introducing the Rush Timeline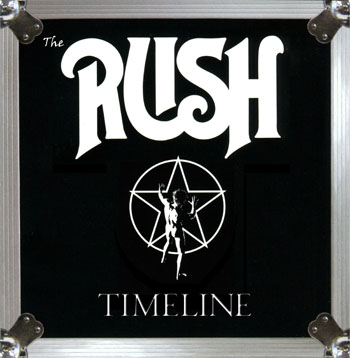 As Rush begin the celebration of their 40th anniversary since the release of the band's debut album, and as Cygnus-X1.Net itself approaches its 10th anniversary later this year, I decided it was time to honor both occasions with a new section to this site:



The Rush Timeline


The idea first occurred to me when I, quite by accident, stumbled across the site of an old British band whose history was presented in a simple but effect graphical timeline. It immediately struck me that Rush's extensive history, which is filled with numerous significant events, would be served well if presented in such a format. After researching some options, I came upon TimelineJS, an open-source tool that enables you to build visually-rich interactive timelines.

TimelineJS's simple-to-use interface and clean design made developing a timeline virtually effortless. Of course the real work would be in identifying the significant events in Rush's storied career to include in the timeline. At first I decided to include only major events such as album releases, the beginnings of major tours and some early pre-debut album history of the band. However as I began to build the foundation of the timeline, I realized that I needed to expand it to include many more events. Further, in addition to listing the events, I added brief summaries, images, embedded videos and more to enrich the entire experience.

So, after many months of research and coding, the Rush Timeline is now online and contains well in excess of 200 entries covering not only album release dates and tours, but other significant events and accolades of the band and its members.

Given that Rush's history continues to evolve, so too will this Timeline. If you spot an error or feel that a significant event was inadvertently overlooked, please contact me.

Many thanks to all those who assisted and encouraged me to take on this monumental task, including Carl McDonnell, Eric Hansen of Power Windows, Ed Stenger of RushIsABand and Joe Pesch.
---