Neil Peart Ranks #3 in Modern Drummer's 50 Greatest Drummers of All Time List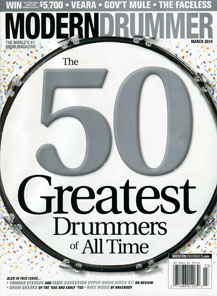 The feature story in the March 2014 issue of Modern Drummer magazine is the periodical's list of the 50 Greatest Drummers of All Time. Neil Peart ranked #3 in the extensive list, which was selected by Modern Drummer readers and drummers.

From the issue:

Whose playing endures through the decades? Whose music do we reach for when we want new ideas? When we want to practice? When we want to laugh? Who inspires and delights us most?

Drumming is a vast and mysterious art, but those are the concepts that help determine greatness.

Now you can turn the page and find the artists who, regardless of genre or era, are revered by the drumming community most consistently. The results, after all, were made by you - drummers, from hobbyist to superstar. Many thousands of you submitted your top ten in our online poll, we tallied it all up, and now we present for all the world MD's 50 Greatest Drummers of All Time.

Taking the top spot is Buddy Rich, followed by Led Zeppelin's John Bonham in the #2 spot.

To read the write-up associated with Neil's entry in the magazine, plus for a look at all 50 drummers that made the cut, please click HERE.
---