Rush: The Rise of Kings Documentary Coming May 6th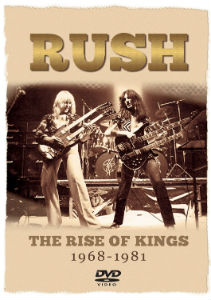 A new, unofficial documentary on Rush titled Rush: The Rise of Kings (1968-1981) is set to be released this coming May 6th.

The documentary comes from Sexy Intellectual Studios whom are known for producing unofficial music documentaries.

From the Amazon.com listing:

The most successful band to emerge from the Canadian rock explosion of the early 1970s, Rush would go on to become one of that nation's biggest entertainment exports. A trio of musical polymaths who cut a fiercely independent, sometimes controversial path through various musical styles to forge a distinctive, evolving sound that was incomparable to that of any of their contemporaries, this hugely influential group have flourished across a forty-plus year career. This film traces the history of Rush from the bar rooms of Toronto in the late 1960s to the world's largest arenas in the late 70s and early 1980s, by which time they were amongst the biggest bands on the planet. Through a stunning combination of rare and classic footage, the testimony of friends, colleagues and those who worked with the group across the years, plus exclusive and archive interviews and a host of other features, this programme makes the very unique history of Rush come alive in a manner previously undocumented.

You can pre-order the documentary, which is currently only available in DVD format, via this LINK.

---

---


Thanks to Ed from RushIsABand for the news.
---