SACD Version of Rush's Counterparts Now Available for Pre-Order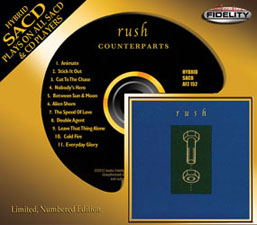 Update (03/06/2013): The SACD version of Counterparts is now shipping - finally! Thanks Mike Cronis.

---

Update (02/24/2013): The SACD version of Counterparts has been delayed once again. It is now scheduled for release on March 5th.

---

Update (01/17/2013): It now appears that the CD will be released on February 19th according to the pre-order link at Amazon.Com.

---

Back in November, we reported that Rush's album Counterparts was being re-released by Audio Fidelity in the SACD format. The SACD format, or Super Audio CD was first introduced back in 1999 as a successor to the audio CD; claiming to offer a better audio dynamics, more channels (e.g. surround sound), and a longer playing time than a standard CD. While the format never gained much traction, a small market still exists, serving the audiophile community.

This mark's Audio Fidelity's first Rush SACD releases since the release of their Roll The Bones Gold CD back in August of 2011.

The original announcement indicated that the album would be released in December, but now it has been confirmed with a release date of January 22nd, 2013 on Amazon.Com.

You can pre-order the SACD version of Counterparts via this LINK.

Thanks to Ed from RushIsABand for passing along the news.
---
Related News Stories
[SACD Version of Rush's Counterparts Coming in December - November 13th, 2012]
---