Kevin J. Anderson Announces Two New Writing Projects: "2113" and "Clockwork Lives"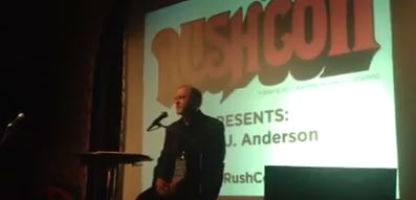 As most fans know, RushCon 14 took place over the weekend in Toronto. One of the special guests during the convention was Kevin J. Anderson, co-author of the novelization of Clockwork Angels. Kevin made two exciting announcements during his presentation at RushCon.

His first announcement centers around an anthology of Rush-based stories:

For those of you NOT lucky enough to be at Rushcon, I made an announcement this afternoon about an anthology of Rush-based stories I'll be coediting with John McFetridge for ECW (publishers of Clockwork Angels). We have a gang of award-winning and bestselling authors already lined up to contribute stories based on Rush songs. And I'll be doing a novella called "2113".

His second announcement was that he and Neil Peart are writing somewhat of a sequel to the Clockwork Angels novel titled Clockwork Lives. You can watch the announcement via this LINK.

We'll have more news as it becomes available.

Thanks to Kelly D for passing along the news direct from RushCon.
---