Rush: Life, Liberty, and the Pursuit of Excellence Book Now Available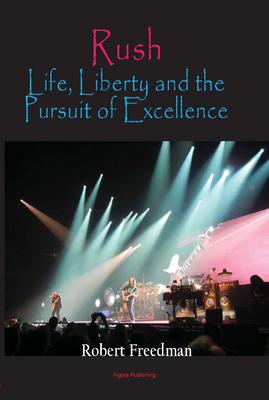 Over the last four years, Robert Freedman, who is the webmaster of the fantastic Rush fan site Rush Vault, has been writing a book about the band. As Robert states, his goal was to develop a book that focused on "...an overarching narrative that put everything the band has done under a single, unifying theme. It was my intention to do that in my book by showing how all of the band's music can be understood as an expression of classical liberalism rooted in Aristotelian individualism..."

The result is Rush: Life, Liberty, and the Pursuit of Excellence from Algora Publishing which is now available. From the book's listing on Amazon:

Rush is often referred to as a libertarian rock band, but really what the band is channeling is an Aristotelian individualism, a philosophy that strongly resonates with today's 40-somethings. This helps explain the band's resurgence in popularity, culminating in its 2013 induction in the Rock and Roll Hall of Fame. 'Rush: Life, Liberty and the Pursuit of Excellence' brings together the excitement of the band's progressive music, performed by three musicians whose mastery of their instruments has won them the admiration of their peers, and the surprising philosophical sophistication of their music's lyrics.
The book is a systematic look at the Aristotelian philosophy embedded in the band's lyrics over its 40-year recording career.

Although the topic of the book is academic, the writing is sharp, down-to-earth, and leavened with a dry wit. Anyone interested in the band's music, popular culture, and philosophical ideas simply explained will enjoy this entertaining and thought-provoking work.

Robert enlisted the help of RushIsABand's Ed Stenger to pen the foreword and he also utilizes some concert photos from your's truly in the book.

The book can be purchased at Amazon or directly through the publisher.

Congratulations to Robert for developing this book!
---