Geddy Lee Featured in "The Mind of the Baseball Collector" Documentary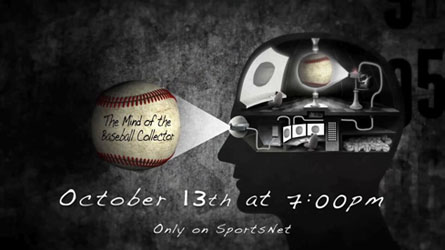 Airing on Monday, October 13th at 7pm on Canada's SportsNet is a documentary titled "The Mind of the Baseball Collector" which features, among other baseball collecting enthusiasts, Geddy Lee:

The Mind of the Baseball Collector looks at the addictive world of sports memorabilia collecting. The past comes to life through the collections and stories of: rock legend Geddy Lee, eclectic collector and lawyer Allan Stitt and the Guinness Book of World Records holder of the most autographed baseballs, Dennis Schrader.

"The Mind of the Baseball Collector" marks the final edition in a series of baseball documentaries produced by Fadoo Productions; the same production company behind some of the more recent Rush concert films.

Geddy's love of baseball is well known. In 2008 he donated nearly 200 autographed baseballs to the Negro Leagues Baseball Museum and, more recently, he purchased the film rights to Dave Bidini's Baseballissimo.

A short trailer for the documentary is available HERE or through the embedded viewer below. There's no word yet if the documentary will be aired online.

---

---

Thanks to Ed from RushIsABand for passing along the news.
---