Geddy Lee and Producer Terry Brown Talk 2112 In New Interview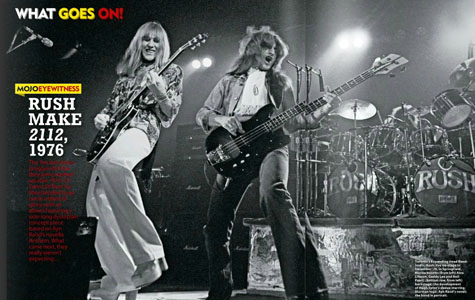 The March 2016 issue of MOJO Magazine, which features the late David Bowie on the cover, includes a Rush-focused article/interview titled Rush Make 2112, 1976. Both Geddy Lee and long-time Rush producer Terry Brown talked about the impact 2112 had on the success of Rush, as well as some unexpected negative impacts the album's release had.

From the article:

Sales were slow at first. And then we had that terrible thing in England with the NME. 2112 was speaking out against totalitarianism, but the NME called us fascists. It made zero sense. Ayn Rand had a very controversial image as an anti-socialist and extreme right-wing capitalist, but that was a side of her work that was not of interest to us.

My father Morris and my mother Mary were both in Auschwitz for a time, so I was really deeply hurt by that NME story. At that time in Britain, the press was hunting down anything that sniffed of fascism. I can't blame them for that. But they got the wrong guys with us. I am not a violent type, but I wanted to punch the guy who wrote that. Definitely, I could have helped educate him.

You can read the entire article via this LINK.
---