Hear Wintersleep's Soaring Song With Rush's Geddy Lee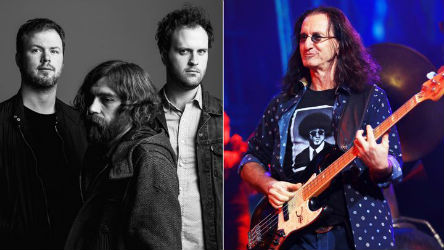 Though Rush is currently on an extended hiatus, that certainly hasn't impacted Geddy Lee's desire to continue to make music, even if it isn't with his band. Recently, Geddy lent his bass-playing skills on a track for the Canadian indie-rock band Wintersleep.

Rolling Stone reports:

When Canadian indie-rock band Wintersleep were recording their new album, The Great Detachment, they got sidetracked chatting about their love for one of their country's most famous musical exports. "We were talking about how amazing Rush was ... and how incredible Geddy Lee is," Paul Murphy, the band's lead singer, told Rolling Stone. "He can sing these incredibly complex melodies with complex lyrics, while playing perhaps even more incredibly complex bass parts, while also operating foot pedals. If there was an instrument he could play with his eyeballs, I'm sure he'd be able to!"

Coincidentally, later that same night, the band ran into trouble while fine-tuning the bass line on one of the tracks, "Territory." "It was cool but the song didn't feel as lively as it should in the end," Murphy explains. "Someone was like, 'What would Geddy Lee do?' jokingly, and Tony [Doogan, producer] was like, 'Oh, the best bass player in the world? He'd make it incredible. Why don't we just ask him?'"

They did, and Wintersleep's "what if ...?" fantasy quickly turned into reality.

Click HERE for the entire Rolling Stone article. You can also listen to the track via the embedded player below.

---

---

Thanks to Ed from RushIsABand for the news.
---