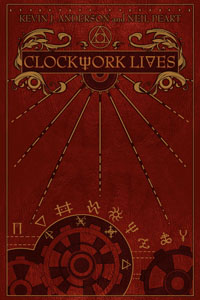 Congratulations go out to Kevin J. Anderson, Neil Peart, and all others who were involved in the audiobook version of Clockwork Lives, the follow-up to the novelization of Clockwork Angels. The book has just been nominated for an Audie Award.

The Audie Awards recognizes distinction in audiobooks and spoken word entertainment sponsored by the Audio Publishers Association (APA). 2016 is the 21st year of annual Audies Awards. Finalists were announced in 25 categories and Clockwork Lives received a nomination in the category of Multi-Voice Performance.

Others involved in the audiobook version of Clockwork Lives include Morgan Hallet, George Guidall, Richard Poe, Jim Jenner, Tandy Cronyn, Pete Bradbury, Barbara Rosenblat, Brian Hutchinson, Luis Moreno, Lynne McCullough, and Jonathan Todd Ross.

For more information on the Audie Awards, and to view other nominees, please click HERE.

Clockwork Lives can be ordered HERE.
---
Related News Stories
[Clockwork Lives: The Bookseller's Tale E-book Now Available - April 29th, 2015]
[Cover Art for Clockwork Lives Novel by Kevin J. Anderson and Neil Peart Revealed - March 6th, 2015]
[Kevin J. Anderson Releases Chapter One Teaser Sample of 'Clockwork Lives' Novel - February 4th, 2015]
[Clockwork Lives Novel by Kevin J. Anderson and Neil Peart Now Available for Pre-Order - January 21st, 2015]
[Kevin J. Anderson Announces Two New Writing Projects: "2113" and "Clockwork Lives - January 22nd, 2015]
---