Rush Featured on the Cover of Guitar World's October Issue - Articles Now Online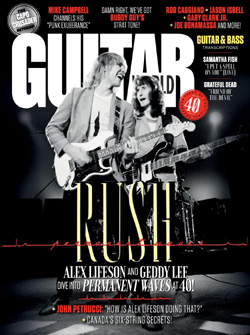 The October 2020 issue of Guitar World magazine features Rush on the cover, and includes two articles that celebrate the 40th anniversary release of the band's Permanent Waves album. The first article, titled The Wave Files, and written by long-time Rush scribe Philip Wilding, details the writing and recording process behind the album.

From the article:
"The band started the sessions with what would become the album's opener and surprise hit record, The Spirit Of Radio. Lee talks fondly of how quickly it came together as a song up at the cottage, and as an opening track it's so very Rush – a brilliant pealing guitar riff, a complex arrangement, a drum pattern you'd be hard-pushed to follow, and a reggae nod on the outro over a lyric railing against the commercialisation of modern-day radio.

If those sentences were about any other band, you'd be left scratching your head. Frame it as a reference to a Rush song, however, and it makes total sense. Because sometimes Rush really make no sense at all. Somehow they make the unworkable work. And never more so than on Permanent Waves.

"I think if you look through our history internationally," says Lee, "Tom Sawyer probably has the most resonance and has garnered the most attention, followed by Spirit…, and then Closer To The Heart. Those are probably our three biggest individual songs."

"I think we kicked off the sessions with The Spirit Of Radio, which excited me," says Terry Brown. "It was something quite different and was fairly challenging, but as we zeroed in on the final performances it was obvious that it was something very special. I wouldn't say any of our sessions were easy – the boys had a knack of challenging themselves on every record. Certainly The Spirit of Radio is a very challenging track to play and yet they make it sound so simple."
The second article -
Big-Time Rush Fan
- is an interview with Dream Theater's John Petrucci as he geeks out on
Permanent Waves
:
"...Petrucci admits that the question "What would Rush do?" gets bandied about during group rehearsals and meetings. "A lot of times, if we have professional conundrums like, 'How should we handle this?' or 'How should we present this?' we'll kind of refer to Rush. They always seemed to do things right. I can't think of a time they made a wrong move. They've always intrigued me, and they've never disappointed me. In terms of how to do things with originality, creativity and wit, they're the ultimate band, one that I continuously fanboy over."

Petrucci points to various aspects of Dream Theater's music that have been lifted from the Rush playbook. "Concept albums and our manner of storytelling - none of that would have happened without Rush," he says. "And the way we've called things Part I or used Roman numerals, or even how we've had three different sections like 'Erotomania,' 'Voices' and 'The Silent Man' - we were absolutely wearing our Rush influences on our sleeves." He laughs, then adds, "I'd be lying if I said otherwise."
You can read both articles in their entirety via the following
LINK
.
Thanks to
RushFanForever
for assisting with the transcription.
---