Rush-Inspired Fine Art - Red Barchetta - Now Available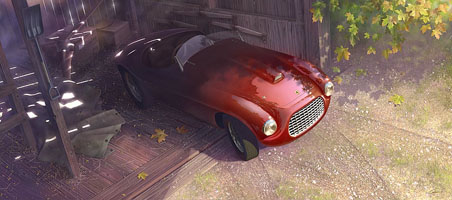 It was two years ago when we first introduced an exciting artistic project undertaken by UK digital artist Graham Whieldon. Graham, an exceptionally talented artist, decided to create artwork based on the songs of Rush:

Creative inspiration is often hard to come by, but Rush as a catalogue of reference is a strangely untapped motherlode. Songs are stories, they provoke images with their lyrics as any written or spoken story does. Stories have been illustrated for millenia, so why not songs?

His first Rush-inspired piece which was based on Rush's The Fountain of Lamneth. Now his second work, based on the classic Red Barchetta, is finally available.

I wanted to paint the car not during the chase but after, in it's quiet, rural setting. This painting is about the heady smell of old oil and dust and leather and the memory of the chase in the droning lazy scent of a late country afternoon, a brief snapshot of a calm place between the lyrics. I can hear muted water running in the kitchen somewhere off to the left and the comforting chime of unintelligible words as somebody washes up for dinner, full of excitement and spent adrenaline and tales to be told.

Graham has, without question, outdone himself with this print. Please click over to his website to see some detailed images of Red Barchetta.

Limited to a run of just 200 prints, this fantastic piece of art is sure to sell-out quickly.

A brilliant Red Barchetta from a better, vanished time.