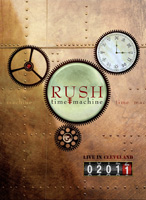 The theatrical release of Rush's Time Machine 2011: Live in Cleveland launches tonight across the U.S. and Canada. The theatrical debut in the United Kingdom will occur on November 1st.

Theater locations and showtimes are available at the D&E Entertainment website (see: www.rushtimemachinepremiere.com.

Unlike the edited version of Live in Cleveland that aired on VH-1 earlier this month, the theatrical version will represent the entire concert!

The Buffalo News posted a great review of the film:

"...What the Canadian trio has been able to accrue since its formation at the dawn of the 1970s is displayed throughout "Time Machine 2011," the new concert documentary presenting the band as it appeared in April before a packed house at Quicken Loans Arena in Cleveland. It all comes down to the devout fan base that has supported this heavy prog-rock outfit from the beginning. These are folks familiar with every lyric, able to air-guitar their way through every solo, and well-versed in every complex time signature shift or logic-defying drum fill in the Rush canon..."

Can't make it to a theater? No problem; pre-order Time Machine 2011: Live in Cleveland, through one of the links below.

Rush Time Machine 2011: Live in Cleveland DVD - $18.99
Rush Time Machine 2011: Live in Cleveland Blu-Ray - $22.49

For all of you taking in the concert film tonight, enjoy.
---
Related News Stories
[
Rush Time Machine 2011: Live in Cleveland - Theaters and Showtimes Now Online
- September 30th, 2011]
[
Here We Go Again - Blu-Ray Version of Time Machine 2011: Live in Cleveland Delayed
- September 25th, 2011]
[
Rush Unveils Time Machine 2011 Live Releases
- September 20th, 2011]
[
Rush: Time Machine 2011: Live in Cleveland to Premiere on VH-1 Classic
- September 17th, 2011]
[
Rush Time Machine 2011: Live in Cleveland DVD Delayed Again
- August 24th, 2011]
[
Rush: Live in Cleveland Concert Movie - New Details Emerge
- August 16th, 2011]
[
Rush Time Machine 2011: Live in Cleveland DVD Release Date Pushed Out
- July 28th, 2011]
[
Rush Time Machine 2011: Live in Cleveland DVD Now Available for Pre-Order
- July 21st, 2011]
[
Rush Rock Cleveland / New Concert DVD Information
- April 16th, 2011]
---