Cameo Appearance by Geddy Lee in CBC's Sunshine Sketches of a Small Town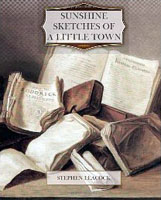 Update (02/14/2011): You can now view the entire film online via this LINK.

---

Update (02/13/2011): According to some sources who watched the show, Geddy appeared in a barber shop chair with a towel covering up his face. Only his nose and a bit of his hair were visible. Geddy had a few lines during the film and was disguising his voice quite well. Finally, as the closing credits were rolling, he took off his towel, looked in the mirror and said "a Roman massage". Thanks Deb Jeff Ouellette!

---

The CBC will be airing a film adaptation of Stephen Leacock's classic Canadian book - Sunshine Sketches of a Small Town - this coming Sunday, February 12th to celebrate it's 100th anniversary.

Canadian actress Jill Hennessy, who also appears in the film, was interviewed for the CBC about her role in the adaptation. During her interview (at approximately the 4:30 mark), she reveals that Geddy Lee will be making a cameo appearance in the film. From the interview:

"... and even Geddy Lee makes a cameo appearance. At the very end - stay for the credits - Geddy Lee will reveal himself. No spoiler, but he is - well, he's supposed to be throughout - but you see him at the end of the film..."

For more information about the airing of Sunshine Sketches of a Small Town, click HERE.
---