Geddy Lee Featured in the March 2012 Issue of Decanter Magazine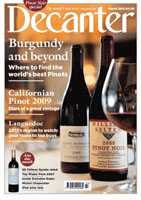 The March 2012 issue of Decanter, the UK wine magazine, includes a short interview with Geddy Lee in the magazine's My Passion For Wine column. Geddy discusses his preferences in wines and how Alex was the led him down the path of becoming the wine collector he is today.

Below is an excerpt from the interview:

"... I was introduced to fine wine while touring in the late 1970s. Alex Lifeson (Rush's lead guitarist) had a big interest in wine so promoters would sometimes give us wine as gifts... Alex and I always reward ourselves after a show with a good bottle of wine. It's a kind of hobby of mine to find a good bottle in whatever city we're touring in and surprise Alex with that..."

Thanks to Eric from Power Windows for the heads up and the excerpt.
---